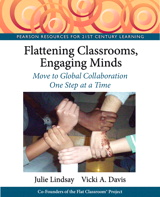 Description
JOIN THE COMMUNITY: go to www.facebook.com/flatclassrooms to sign up for free webinars, chat with the authors, and connect with other teaching professionals around the world!
Flattening Classrooms, Engaging Minds presents a seven step approach to transforming teaching using current pedagogies, technology tools, and global collaboration to create standards-aligned, technology rich, cross-cultural learning experiences that enhances 21st century student engagement.
Outlines seven steps (Chapters 3-9) to bring a classroom or school into effective global collaborative practice including connection, communication, citizenship, contribution/collaboration, choice, creating and celebration.
Divides each "Step" into Self, School, and Student headings so readers can see how to create an effective 21st century curriculum and learning environment at each level of the education system.
Prompts readers to develop professionally with the Flat Classroom® 15 Challenges that challenge them to become more familiar with new technologies (blogs, CMPs, mobile devices, wikis) and use them to create rich learning experiences for themselves and their students.
Includes 6 month free access to the PDToolkit where all case studies will be posted in their entirety; a completed sample Flat Classroom® Framework; Interactive Surveys; Online glossary; Sample student assignments; Wiki and digital storytelling rubrics; Downloadable model for digital citizenship; Learning Design Pie Planning Tool; and a Connection planning tool.
Table of Contents
PART I: MEET THE FLAT CLASSROOM®
1. Flattening Classrooms through Global Collaboration
2. Impact on Learning: Research in the Global Collaborative Classroom
PART II: SEVEN STEPS TO FLATTEN YOUR CLASSROOM
3. Step 1: Connection
4. Step 2: Communication
5. Step 3: Citizenship
6. Step 4: Contribution and Collaboration
7. Step 5: Choice
8. Step 6: Creation
9. Step 7: Celebration
PART III: PROJECT DEVELOPMENT
10. Designing and Managing a Global Collaborative Project
11. Challenge-Based Professional Development
12. Rock the World
APPENDICES
Appendix A Flat Classroom® Project Rubric Assessment
Appendix B Global Collaboration and the International Baccalaureate
Appendix C ISTE NETs
Appendix D C21 Standards
Glossary