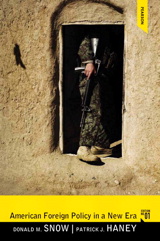 Description
Taking the contemporary challenges of globalization and hyper-partisanship as its starting point, American Foreign Policy in a New Era surveys how foreign policy is made and to what ends.
This brief text is not only a review of theory, history, actors, institutions, and key policies but also an examination of how policymakers are affected by domestic and international political factors. Telling a uniquely engaging story of how foreign policy is made, American Foreign Policy in a New Era help students understand the changing leadership role of the United States and the effect of world politics on the everyday life of Americans.
Table of Contents
Chapter 1. A New Foreign Policy Era
Chapter 2. Paradigm Lost: The Cold War to the Present
Chapter 3. Decision Making and U.S. Foreign Policy
Chapter 4. The President
Chapter 5. The Role of Executive Agencies
Chapter 6. Congress and Foreign Policy
Chapter 7. Interest Groups and Think Tanks
Chapter 8. The Public and the Media
Chapter 9. Traditional Issues in National Security
Chapter 10. Contemporary Security Problems in an Asymmetrical World
Chapter 11. Economics and Foreign Policy
Chapter 12. Economic and Political Instruments of Foreign Policy
Chapter 13. Trans-State Issues and American Foreign Policy
Purchase Info ?
With CourseSmart eTextbooks and eResources, you save up to 60% off the price of new print textbooks, and can switch between studying online or offline to suit your needs.
Once you have purchased your eTextbooks and added them to your CourseSmart bookshelf, you can access them anytime, anywhere.
Buy Access
Foreign Policy in a New Era, CourseSmart eTextbook
Format: Safari Book
$35.99 | ISBN-13: 978-0-205-21025-1