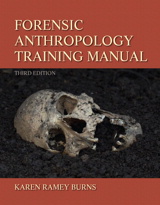 Description
For laboratory courses in human osteology (human skeletal anatomy) and forensic anthropology at the junior/senior level.
This manual is designed to serve three purposes: to be used as a general introduction to the field of forensic anthropology; as a framework for training; and as a practical reference tool. The text will make students aware of the challenges and responsibilities of the forensic scientist, the multidisciplinary nature of the work, and the international potential for the forensic sciences.
Table of Contents
1. BRIEF TABLE OF CONTENTS
Chapter 1. Introduction to Forensic Anthropology
Chapter 2. The Biology of Bone and Joints
Chapter 3. The Skull and Hyoid
Chapter 4. The Shoulder Girdle and Thorax: Clavicle, Scapula, Ribs, and Sternum
Chapter 5. The Vertebral Column
Chapter 6. The Arm: Humerus, Radius, and Ulna
Chapter 7. The Hand: Carpals, Metacarpals, and Phalanges
Chapter 8. The Pelvic Girdle: Illium, Ishium, and Pubis
Chapter 9. The Leg: Femur, Tibia, Fibula, and Patella
Chapter 10. The Foot: Tarsals, Metatarsals, and Phalanges
Chapter 11. Odontology (Teeth)
Chapter 12. Introduction to the Forensic Sciences
Chapter 13. Laboratory Analysis
Chapter 14. Race and Cranial Measurements
Chapter 15. Field Methods
Chapter 16. Professional Results
Chapter 17. Large-Scale Applications
Purchase Info ?
With CourseSmart eTextbooks and eResources, you save up to 60% off the price of new print textbooks, and can switch between studying online or offline to suit your needs.
Once you have purchased your eTextbooks and added them to your CourseSmart bookshelf, you can access them anytime, anywhere.
Buy Access
Forensic Anthropology Training Manual, The, CourseSmart eTextbook, 3rd Edition
Format: Safari Book
$37.99 | ISBN-13: 978-0-205-02258-8