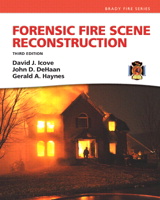 Description
For courses in Fire Investigation and Fire Science, including senior and graduate level forensic fire scene investigation curricula, especially those in fire service, fire protection engineering, and graduate forensics science courses.
Forensic Fire Scene Reconstruction, Third Edition, describes and illustrates a new systematic approach for reconstructing fire scenes, applying the principles of fire protection engineering along with those of forensic science and behavioral science. Modern fire investigation topics are covered, including comprehensive documentation, hypothesis testing, and defensible reconstruction of the events leading up to the fire and its final results. Using historical fire cases and realistic case examples, the authors examine the newest lessons learned and insight into the ignition, growth, development, and outcome of those fires. All documentation in the case examples follows or exceeds the methodology set forth by the NFPA in NFPA 921–Guide for Fire and Explosion Investigations and its companion standard NFPA 1033–Standard for Professional Qualifications for Fire Investigator, 2009 Edition, and Kirk's Fire Investigation ,Seventh Edition.
Table of Contents
1. Principles of Reconstruction
2. Basic Fire Dynamics
3. Fire Pattern Analysis
4. Fire Scene Documentation
5. Arson Crime Scene Analysis
6. Fire Modeling
7. Fire Deaths and Injuries
8. Fire Testing
Epilogue
Appendices
A. Glossary
B. Mathematics Refresher
C. Websites
Index
Purchase Info ?
With CourseSmart eTextbooks and eResources, you save up to 60% off the price of new print textbooks, and can switch between studying online or offline to suit your needs.
Once you have purchased your eTextbooks and added them to your CourseSmart bookshelf, you can access them anytime, anywhere.
Buy Access
Forensic Fire Scene Reconstruction, CourseSmart eTextbook, 3rd Edition
Format: Safari Book
$44.99 | ISBN-13: 978-0-13-260602-8