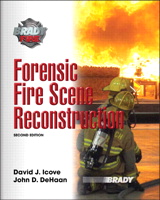 Description
Advanced level fire investigation text intended for use by fire and law enforcement investigtors, attorney's forensic scientists and fire protection professionals. A thorough understanding of fire dynamics is valuable in applying thees forensic engineering techniques. This text describes and llustrates a new systematic approach for reconstructing a wide varity of fire scenes. The material includes numerous court cases, challenges and decision that affect how analyses and investigations should be conducted. This new edition cites NFPA 921 and Kirk's Fire Investigation.
Table of Contents
Acknowlegements
Preface
Chapter 1: Principles of Reconstruction
Chapter 2: Basic Fire Dynamics
Chapter 3: Fire Pattern Analysis
Chapter 4: Fire Scene Documentation
Chapter 5: Arson Crime Scene Analysis
Chapter 6: Fire Modeling
Chapter 7: Fie Deaths and Injuries
Chapter 8: Fire Testing
Appendix A: References
Appendix B: Glossary
Appendix C; Mathematics Refresher
Appendix D: Websites
General Index
Purchase Info ?
With CourseSmart eTextbooks and eResources, you save up to 60% off the price of new print textbooks, and can switch between studying online or offline to suit your needs.
Once you have purchased your eTextbooks and added them to your CourseSmart bookshelf, you can access them anytime, anywhere.
Buy Access
Forensic Fire Scene Reconstruction, CourseSmart eTextbook, 2nd Edition
Format: Safari Book
$42.99 | ISBN-13: 978-0-13-504601-2