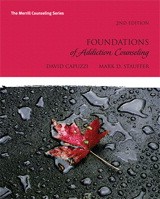 Description
A practical collection of tools and strategies for prospective addictions counselors that includes a solid foundation of research, theory, and history.
Practical and comprehensive, Foundations of Addiction Counseling explores an array of techniques and skills that a new practitioner will need in the real world while providing a thorough review of the research, theory, and history of addiction counseling. With chapters written by expert scholars, this text covers many topics in-depth often ignored by other comparable books, such as professional issues in addictions counseling, the assessment of client strengths, gender issues in substance abuse, working in rehabilitation centers, and working with clients with disabilities.
The second edition of this unique text offers prospective counselors the tools and strategies they will need for working with general and special populations, including assessment tools, strategies for outpatient and inpatient treatment, information about maintenance and relapse prevention, and counseling strategies for couples, families, children, adolescents, college students, and recovering addicts. The revised edition includes expanded discussions on a number of topics, new case studies, and completely updated resources and web references.
Table of Contents
Preface
Acknowledgments
Contributors
Meet the Editors
Meet the Authors
PART I INTRODUCTION TO ADDICTIONS COUNSELING
CHAPTER 1 History and Etiological Models of Addiction
David Capuzzi and Mark D. Stauffer
CHAPTER 2 Substance Addiction
Laura J. Veach, Jennifer L. Rogers, and E. J. Essic
CHAPTER 3 Process Addictions
Laura J.Veach, Emeline P. Hollander, Jennifer L. Rogers, and E. J. Essic
CHAPTER 4 Important Professional Issues in Addictions Counseling
Melinda Haley, Jason Vasquez, and Senait Alem Bairu
CHAPTER 5 Introduction to Assessment
Mark D. Stauffer, David Capuzzi, and Holly Fetter
CHAPTER 6 Assessment and Diagnosis of Addictions
John M. Laux, Dilani M. Perera-Diltz, and Stephanie A. Calmes
PART TWO THE TREATMENT OF ADDICTIONS
CHAPTER 7 Motivational Interviewing
Lisa Langfuss Aasheim
CHAPTER 8 Psychotherapeutic Approaches
Cynthia J. Osborn
CHAPTER 9 Co-occurring Disorders and Addictions Treatment
Scott E. Gillig and Pamela A. Cingel
CHAPTER 10 Group Therapy for Treatment of Addictions
Laura R. Simpson and Donna S. Sheperis
CHAPTER 11 Addiction Pharmacotherapy
Cass Dykeman
CHAPTER 12 12-Step Facilitation of Treatment
Adrianne L. Johnson
CHAPTER 13 Maintenance and Relapse Prevention
Rochelle Moss and Christopher C. H. Cook
PART THREE: ADDICTIONS IN FAMILY THERAPY, REHABILITATION AND SCHOOL SETTINGS
CHAPTER 14 Alcohol Addiction and Families
Misty K. Hook
CHAPTER 15 Persons with Disabilities and Addictions
Debra A. Harley, Malachy Bishop, and Jennifer Burris
CHAPTER 16 Substance Abuse Prevention Programs for Children, Adolescents, and College Students
Abbe' Finn
PART FOUR: CROSS-CULTURAL COUNSELING IN ADDICTIONS
CHAPTER 17 Cross-Cultural Counseling: Engaging Ethnic Diversity
Jane E. Rheineck and Vanessa Alleyne
CHAPTER 18 Gender and Addictions
Cynthia A. Briggs
CHAPTER 19 Lesbian, Gay, Bisexual and Transgender Affirmative Addictions Treatment
Anneliese A. Singh and Pamela S. Lassiter
Purchase Info
ISBN-10: 0-13-705778-4
ISBN-13: 978-0-13-705778-8
Format: Alternate Binding
Digital Choices ?
MyLab & Mastering with Pearson eText is a complete digital substitute for a print value pack at a lower price.
eTextbook ?
With VitalSource eTextbooks, you save up to 60% off the price of new print textbooks, and can switch between studying online or offline to suit your needs.
Access your course materials on iPad, Android and Kindle devices with VitalSource Bookshelf, the textbook e-reader that helps you read, study and learn brilliantly. Features include:
See all of your eTextbooks at a glance and access them instantly anywhere, anytime from your Bookshelf - no backpack required.
Multiple ways to move between pages and sections including linked Table of Contents and Search make navigating eTextbooks a snap.
Highlight text with one click in your choice of colors. Add notes to highlighted passages. Even subscribe to your classmates' and instructors' highlights and notes to view in your book.
Scale images and text to any size with multi-level zoom without losing page clarity. Customize your page display and reading experience to create a personal learning experience that best suits you.
Print only the pages you need within limits set by publisher
Supports course materials that include rich media and interactivity like videos and quizzes
Easily copy/paste text passages for homework and papers
Supports assistive technologies for accessibility by vision and hearing impaired users