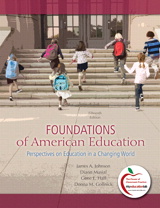 Components of the Package:
Foundations of American Education: Perspectives on Education in a Changing World, 15th Edition
By James A. Johnson, Diann L. Musial, Gene E. Hall, Donna M. Gollnick, Victor L. Dupuis
MyEducationLab -- Valuepack Access Card
By Mike M Pearson Education
Description
This best-selling text, Foundations of American Education, prepares students for tomorrow's classrooms through its thorough coverage of the foundations of American education, including the historical, legal, philosophical, social, and practical aspects of education. The fifteenth edition has been revised to provide a more engaging experience for future teachers as they examine their changing role and the role of schools in today's diverse society. Readers will find integrated discussions of technology, hot educational trends, real classroom situations, and call-outs to a revolutionary new online component, MyEducationLab, that provides interactive self-assessments and video-based activities.
To order this book WITHOUT MyEducationLab use this ISBN: 9780137012527.
To order this book WITH MyEducationLab use this ISBN: 9780131381285 .
Table of Contents
Johnson, et al
15e
Part I The Teaching Profession
Chapter 1 Teaching in a Changing World
Part II Historical Foundations of Education
Chapter 2 The Early History of Education in a Changing World
Chapter 3 Historical Perspectives of Education
Part III Philosophical Foundations of Education
Chapter 4 Philosophy: Reflections on the Essence of Education
Chapter 5 Building an Educational Philosophy in a Changing World
Part IV Sociological Foundations of Education
Chapter 6 Place of Schools in Society
Chapter 7 Diversity in Society and Schools
Chapter 8 Students and Their Families
Part V Governance, Organization, and Legal Foundations of Education
Chapter 9 Organizing and Paying for Education
Chapter 10 Legal Perspectives on Education
Part VI Curricular Foundations of Education
Chapter 11 Standards, Assessment, and Accountability
Chapter 12 Designing Programs for Learners : Curriculum and Instruction
Chapter 13 Becoming a High-Quality Teacher in a Changing World
Purchase Info
ISBN-10: 0-13-138128-8
ISBN-13: 978-0-13-138128-5
Format: ValuePack