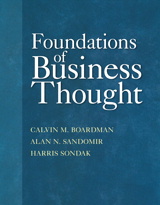 Description
Foundations of Business Thought is an eclectic guide through the historic and socio-philosophic maze of our distant and recent business past. It is a seeker's blueprint to the intellectual architecture of the business world, rather than a static, or passive, consumer's nuts-and-bolts template which, like many standard introduction texts to business, exists to introduce students as efficiently as possible into the mechanical processes of commerce. The Foundations readings prepare students to think about what it means, in the most personal terms, to be a part of the commercial world.

Employing passages of reasonable reading length, the authors guide us through an arc of interdisciplinary subjects, which illuminates more than two thousand years of thinking about the subject of commerce and its meaning in our lives. Readings represent a renowned and diverse group, including Plato, Henry David Thoreau, Max Weber, Christopher Columbus, Benjamin Franklin, W.E.B. DuBois, and Ayn Rand.
Table of Contents
PART I. INTRODUCTION
Of Studies from The Essays (Francis Bacon)
Reading from Walden (Henry David Thoreau)
From The Souls of Black Folk (W.E.B. DuBois)
PART II. MOTIVATION FOR THE DEVELOPMENT OF COMMERCE
Introduction: All That is Solid Melts into Air
From The Journal of Christopher Columbus (Christopher Columbus/Clements Markhan/Paolo Pazzo Toscanelli)
A History of Ancient Mexico (Fray Bernardino de Sahagun)
From The True History of the Conquest of New Spain (Bernal Diaz Del Castillo)
From Two Treatises of Civil Government (John Locke)
1879 Speech to Congress (Hin-mah-too-yah-lat-kekt "Chief Joseph")
From Faust (Johann Wolfgang von Goethe)
Economy from Walden (Henry David Thoreau)
The World is Too Much With Us (William Wordsworth)
PART III. FOUNDATIONS OF A COMMERCIAL SOCIETY
Introduction: Don't Know Much About History
From The Republic (Plato)
From The Politics (Aristotle)
Laissez-Faire Policy from The Economic Principles of Confucius and His School (Chen Huan-Chang)
From An Inquiry into the Nature and Causes of the Wealth of Nations (Adam Smith)
I, Pencil (Leonard E. Read)
From The Fable of the Bees (Bernard Mandeville)
Wealth from Essays and Journals (Ralph Waldo Emerson)
The Veins of Wealth from Unto this Last and Other Essays on Art and Political Economy (John Ruskin)
From Acres of Diamonds (Russell H. Conwell)
From Atlas Shrugged (Ayn Rand)
Capitalist Production from Das Kapital (Karl Marx)
The Social Organism from Religion and the Rise of Capitalism (R.H. Tawney)
From The Protestant Ethic and the Spirit of Capitalism (Max Weber)
From The Acquisitive Society (R.H. Tawney)
From The Gospel of Wealth (Andrew Carnegie)
Vignette: Teaching Business to Children from Safe Methods in Business (J.L. Nichols)
From The Personal Relation in Industry (John D. Rockefeller, Jr.)
The Social Responsibility of Business Is To Increase Its Profits (Milton Friedman)
The Shuchu Kiyaku (Seika Fujiwara)
PART IV. MARKETING
Introduction: You Are Who You Think You Are; So Be Careful About Who You Think You Are
From The Art of War (Sun Tzu)
From De Officiis (Cicero)
Of Cheating, Which is Committed in Buying and Selling from The Summa Theologica (Thomas Aquinas)
Natural Selection from The Origin of Species (Charles Darwin)
From The Financier (Theodore Dreiser)
Pecuniary Emulation and Conspicuous Consumption from Theory of the Leisure
Class (Thorstein Veblen)
From The Middleman (Albert W. Atwood)
Control of Prices and People from The New Industrial State (John Kenneth Galbraith)
PART V. ACCOUNTING
Introduction: When You Add You Subtract
The Antecedents of Double-Entry Bookkeeping from Accounting Review (A.C. Littleton)
Particulars of Reckonings and Their Recording from Ancient Double Entry Bookkeeping: Luca Pacioli's Treatise (Luca Pacioli)
The Eternal Storehouse of Japan (Ihara Saikaku)
From The Compleat English Tradesman (Daniel Defoe)
PART VI. FINANCE
Introduction: Putting It All Together, Bit by Bit
A Discourse of Coyned Money (Dudley North)
From The Travels of Marco Polo (Marco Polo)
Book VIII: The Book of Civil Laws from The Code of Maimonides (Moses ben Maimonides)
Of the Sin of Usury from The Summa Theologica (Thomas Acquinas)
Of Riches and Of Usury from The Essays (Francis Bacon)
Of Profits from The Principle of Political Economy (John Stuart Mill)
From The Works of Benjamin Franklin (Benjamin Franklin)
The Tulipomania from Extraordinary Popular Delusions and the Madness of Crowds (Charles Mackey)
Confusion de Confusiones (Joseph de la Vega)
The General Theory of Employment, Interest, and Money (John Maynard Keynes)
PART VII. MANAGEMENT
Introduction: The Art of Getting Things Done Through People
Letter to Horace Greeley (Abraham Lincoln)
Concerning the Way in Which Princes Should Keep Faith from The Prince (Niccolo Machiavelli)
From The Republic (Plato)
The Analects (K'ung Fu-tzu "Confucius")
An Employer's View of the Labor Question from The Gospel of Wealth (Andrew Carnegie)
From Letters from a Self-Made Merchant to His Son (George Lorimer)
From Lady Chatterley's Lover (D.H. Lawrence)
The Human Side of Enterprise (Douglas M. McGregor)
The Condition of Efficiency from The Acquisitive Society (R.H. Tawney)
Functions of Organizations from The Functions of the Executive (Chester I. Barnard)
PART VIII. PRODUCTION
Introduction: Take This Job and Love It
From The Travels of Marco Polo (Marco Polo)
Manufacturers from The Works of Alexander Hamilton (Alexander Hamilton)
From Manufacturers (Thomas Jefferson)
That Aristocracy May Be Engendered by Manufactures from Democracy in America (Alexis de Tocqueville)
Alienated Labor (Karl Marx)
The Principles of Scientific Management (Frederick Taylor)
From My Life and Work (Henry Ford)
From The House of Mirth (Edith Wharton)
Economic Foothold from Women and the Trades (Elizabeth Beardsley Butler)
Man and Machine from All Men Are Brothers (Mohandas Gandhi)


Purchase Info ?
With CourseSmart eTextbooks and eResources, you save up to 60% off the price of new print textbooks, and can switch between studying online or offline to suit your needs.
Once you have purchased your eTextbooks and added them to your CourseSmart bookshelf, you can access them anytime, anywhere.
Buy Access
Foundations of Business Thought, CourseSmart eTextbook
Format: Safari Book
$38.99 | ISBN-13: 978-0-13-285608-9