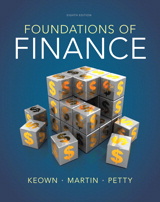 Description
Motivate your students to study finance by focusing on its five underlying principles.

Foundations of Finance enables students to see the big picture by helping them understand the logic that drives finance rather than having them memorize formulas.

Table of Contents
PART I. The Scope and Environment of Financial Management
1. An Introduction to the Foundations of Financial Management
2. The Financial Markets and Interest Rates
3. Understanding Financial Statements and Cash Flows
4. Evaluating a Firm's Financial Performance
¿
Part II. The Valuation of Financial Assets
5. The Time Value of Money
6. The Meaning and Measurement of Risk and Return
7. The Valuation and Characteristics of Bonds
8. The Valuation and Characteristics of Stock
9. The Cost of Capital
¿
Part III. Investment in Long-Term Assets
10. Capital-Budgeting Techniques and Practice
11. Cash Flows and Other Topics in Capital Budgeting
¿
Part IV. Capital Structure and Dividend Policy
12. Determining the Financing Mix
13. Dividend Policy and Internal Financing
¿
Part V. Working-Capital Management and International Business Finance
14. Short-Term Financial Planning
15. Working-Capital Management
16. International Business Finance
Web 17. Cash, Receivables, and Inventory Management
Purchase Info ?
With CourseSmart eTextbooks and eResources, you save up to 60% off the price of new print textbooks, and can switch between studying online or offline to suit your needs.
Once you have purchased your eTextbooks and added them to your CourseSmart bookshelf, you can access them anytime, anywhere.
Buy Access
Foundations of Finance, CourseSmart eTextbook, 8th Edition
Format: Safari Book
$99.99 | ISBN-13: 978-0-13-301966-7