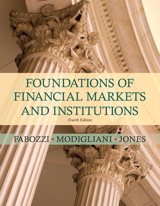 Table of Contents
Preface
1 Introduction
2 Financial Institutions, Financial Intermediaries, and Asset Management Firms
3 Depository Institutions: Activities and Characteristics
4 The U.S. Federal Reserve and the Creation of Money
5 Monetary Policy in the United States
6 Insurance Companies
7 Investment Companies and Exchange-Traded Funds
8 Pension Funds
9 Properties and Pricing of Financial Assets
10 The Level and Structure of Interest Rates
11 The Term Structure of Interest Rates
12 Risk/Return and Asset Pricing Models
13 Primary Markets and the Underwriting of Securities
14 Secondary Markets
15 Treasury and Agency Securities Markets
16 Municipal Securities Markets
17 Markets for Common Stock: The Basic Characteristics
18 Markets for Common Stock: Structure and Organization
19 Markets for Corporate Senior Instruments: I
20 Markets for Corporate Senior Instruments: II
21 The Markets for Bank Obligations
22 The Residential Mortgage Market
23 Residential Mortgage-Backed Securities Market
24 Market for Commercial Mortgage Loans and Commercial Mortgage-Backed Securities
25 Market for Asset-Backed Securities
26 Financial Futures Markets
27 Options Markets
28 Pricing of Futures and Options Contracts
29 The Applications of Futures and Options Contracts
30 OTC Interest Rate Derivatives: Forward Rate Agreements, Swaps, Caps, and Floors
31 Market for Credit Risk Transfer Vehicles: Credit Derivatives and Collateralized Debt Obligations
32 The Market for Foreign Exchange and Risk Control Instruments
Index
These online resources are available at no cost.
Companion Website for Foundations of Financial Markets and Institutions
Purchase Info
Digital Choices
eTextbook ?
With CourseSmart eTextbooks and eResources, you save up to 60% off the price of new print textbooks, and can switch between studying online or offline to suit your needs.
Once you have purchased your eTextbooks and added them to your CourseSmart bookshelf, you can access them anytime, anywhere.