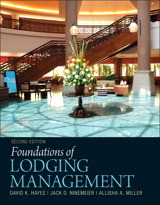 Description
Written in an easy-to-read, easy-to-understand style, Foundations of Lodging Management, 2e explores how the lodging industry and the hotels in the industry operate. KEY FEATURES: With coverage of both small and large hotels, it addresses each department, including the front office, sales and marketing, housekeeping, maintenance and more! This edition features more on green initiatives and expanded discussion of revenue optimization.
Table of Contents
1.¿¿¿¿¿ Introduction to the Lodging Industry
2.¿¿¿¿¿ The Structure of the lodging Industry
3.¿¿¿¿¿ Guest Service in the Lodging Industry
4.¿¿¿¿¿ Managing Lodging Operations
5.¿¿¿¿¿ Staffing the Lodging Operation
6.¿¿¿¿¿ The Front Office Department
7.¿¿¿¿¿ The Sales and Marketing Department
8.¿¿¿¿¿ The Housekeeping Department
9.¿¿¿¿¿ The Maintenance Department
10.¿ Food and Beverage Operations: Limited Service Hotels
11.¿ Food and Beverage Operations: Full-Service Hotels
12.¿ The Accounting Department
13.¿ Safety and Security
14.¿ Careers in the Lodging Industry
These online resources are available at no cost.
Companion Website for Foundations of Lodging Management, 2nd Edition