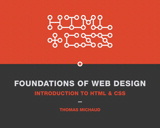 Description
The book is an introduction to the basic principles of web design, and also serves as a curriculum guide for teachers developing a course in the basics of HTML and CSS. Readers will work through a semester project (covering 9 separate assignments), a midterm project (call-to-action site), and a final project (a website portfolio). Students will learn about HTML semantics, structure, and validation and how to separate content from design using CSS.
Table of Contents
1. Websites: the beginning
2. Text Elements
3. Links and Objects
4. Tables
5. CSS Introduction
6. HTML & CSS Attributes
7. CSS: Text and Colors
8. Box Model
9. Float, Position, and Display
10. Page Layout
11. Navigation Styles
12. HTML Forms -- April
13. Sketching to Coding (the Design Process)
14. Looking Ahead: Interactive Design
15. Extra: HTML and CSS Validation
16. Extra: File Transfer Protocol (FTP)
Purchase Info ?
With CourseSmart eTextbooks and eResources, you save up to 60% off the price of new print textbooks, and can switch between studying online or offline to suit your needs.
Once you have purchased your eTextbooks and added them to your CourseSmart bookshelf, you can access them anytime, anywhere.
Buy Access
Foundations of Web Design: Introduction to HTML & CSS, CourseSmart eTextbook
Format: Safari Book
$17.49 | ISBN-13: 978-0-13-340824-9