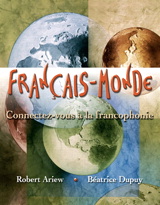 Description
Français-Monde is a new college-level introductory French program informed by:

1. research findings combined with years of teaching experience and first-year program direction;
2. learners' desire to be equipped linguistically and culturally to communicate more successfully and participate more fully in the global community and marketplace;
3. instructors' need for materials that help them meet the needs of a diverse learner population, both in and out of the classroom.

Reflecting the five goals of the National Standards and their related objectives, Français-Monde is designed to help learners develop cross-cultural competence in a rich and flexible framework by providing a variety of options that allow instructors to meet the goals and objectives of their course, as well as the needs of their learners.

Table of Contents
Table of Contents:
Chapitre 1: Rencontres francophones
Chapitre 2: Moi, ma famille et mes amis
Chapitre 3: Nouvelle étape
Chapitre 4: Aujourd'hui bureau, demain rando
Chapitre 5: Quelles études pour quelle formation professionnelle?
Chapitre 6: Etudier à l'étranger
Chapitre 7: Se déplacer mieux pour mieux visiter
Chapitre 8: Quoi manger et où rester?
Chapitre 9: Cultiver son look, cultiver sa tête
Chapitre 10: Où et comment se loger?
Chapitre 11: Comment se soigner et maintenir la forme?
Chapitre 12: Penser vert
Purchase Info ?
With CourseSmart eTextbooks and eResources, you save up to 60% off the price of new print textbooks, and can switch between studying online or offline to suit your needs.
Once you have purchased your eTextbooks and added them to your CourseSmart bookshelf, you can access them anytime, anywhere.
Buy Access
Français-Monde: Connectez-vous à la francophonie, CourseSmart eTextbook
Format: Safari Book
$93.99 | ISBN-13: 978-0-205-80767-3