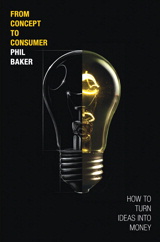 Description
In From Concept to Consumer, legendary product developer Phil Baker reveals exactly what it takes to create great products and bring them to market. Baker's product successes range from Apple's PowerBook to the Stowaway portable keyboard, the most successful PDA accessory ever created. Here, he walks you through the entire development process, showing how to develop products holistically, reflecting the crucial linkages between product design, engineering, testing, manufacturing, marketing, and distribution. You'll discover what makes a winning product, and why great ideas are just 5% of the process... the easiest 5%! Baker illuminates crucial issues you won't find covered in any textbook, including: ten critical mistakes product inventors make... how to quantify and manage the hidden costs that can sink your product... how to time product delivery so you don't reach the market too early or too late... how to coordinate worldwide product development, and leverage Asian manufacturing without falling victim to its pitfalls. You'll find practical guidance for planning, establishing teams, creating marketing requirements, avoiding "feature creep," prototyping, protecting intellectual property, market testing and positioning, preparing for customer service, implementing the optimal distribution strategy, and much more. Then, once you've delivered your first winning product, Baker shows how to follow up with the next one... and the next one after that!
Table of Contents
Preface xvii
01 New World, New Rules 1
Build It and They Won't Come 3
New Rules 7
Asia 10
02 Just Do It 15
Organizing for Rapid Development 15
Get Customer Input 20
Leveraging Outside Resources 21
Remembering That Less Is More 24
Don't Get Hung Up with Perfection 26
03 The Basics of Development 31
Development 32
Marketing 37
Estimating Sales 39
Product Specs 40
Schedule 41
Product Cost 44
04 Industrial Design Matters 51
Discovering ID 56
The Industrial Design Process 64
05 Why Outsource? 67
The Rise of the OEM and ODM Model 67
Taiwan 69
Mainland China 70
Asia's Advantage 72
Is Outsourcing for All? 73
Protection of Your Intellectual Property 75
Product Quality 76
The Chinese Factory 78
06 Selecting and Working with an Asian Partner 83
Managing the Relationship 89
Manufacturing Costs 89
Manufacturing Quality 91
Durability Testing 92
07 The Marketing Component 95
Product Definition 96
Market Testing 97
Product Positioning 102
Public Relations 104
Customer Service 107
Establishing Price 110
08 Distribution: Getting Your Product to the Customer 113
What Are Your Choices? 113
Retail Distribution 113
Distribution Costs 116
Selling Through 119
Licensing 126
09 Legal Advice: Knowing When to Ignore It 127
Patents 127
Agreements and Contracts 132
Development and Manufacturing Agreements 133
10 Now What ? 141
Epilogue: The Future of Product Development 149
Appendix A: Top Ten Rules 153
Appendix B: Products and the Environment 155
Appendix C: China–Helpful or Harmful? 159
Appendix D: A Representative List of Recommended Resources 163
Index 167
Purchase Info ?
With CourseSmart eTextbooks and eResources, you save up to 60% off the price of new print textbooks, and can switch between studying online or offline to suit your needs.
Once you have purchased your eTextbooks and added them to your CourseSmart bookshelf, you can access them anytime, anywhere.
Buy Access
From Concept to Consumer: How to Turn Ideas Into Money, CourseSmart eTextbook
Format: Safari Book
$12.99 | ISBN-13: 978-0-13-216119-0