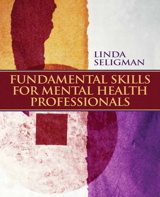 Description
This book is intended to help students and novice clinicians, as well as more experienced clinicians, in the mental health professions of counseling, psychology, and social work to develop competence in the fundamental skills of their profession. With a solid grounding in such skills as effective use of questions, reflection of feelings, eliciting and modifying dysfunctional thoughts, and behavioral change strategies, clinicians can both acquire a sound understanding of their clients and develop strong helping skills.
Table of Contents
PART I ESTABLISHING THE FOUNDATION FOR DEVELOPMENT OF FUNDAMENTAL SKILLS
1. Becoming an Effective Clinician
Entering the World of the Clinician

Characteristics of the Effective Clinician

Other Essential Ingredients of Treatment

Importance of Theories of Counseling and Psychotherapy

Making the Transition from Theory to Treatment

Understanding the Helping Professions

Historical Overview

Purpose of this Book

Organization of this Book

Stages of the Treatment Process

Identifying People's Areas of Difficulty

Planning the Treatment

Structure of this Book

How this Book Will Contribute to Your Skill Development

Using This Book Effectively

Promoting Skill Development

Practice Group Exercises

Learning Opportunities
2. Antecedents to Effective Skill Development: Multicultural Competence, Ethical Understanding, Social Justice, and Others
Paving the Way for Skill Development

Learning Goals for the Chapter

Ethical Standards

Understanding Normal and Abnormal Human Development

Theories of Counseling and Psychotherapy

Multicultural Understanding and Competence

Social Justice and Advocacy

Integrating the Mind, Body, and Spirit

Other Areas of Knowledge and Competence

Learning Opportunities
PART II USING FUNDAMENTAL SKILLS TO UNDERSTAND AND ADDRESS BACKGROUND
3. Using Questions Effectively to Gather Information and Understand Background
Example Illustrating Importance of Questions

Purposes That Questions Can Accomplish

The Importance of Purpose

Formulating Helpful Questions

Importance of Background Information

Purposes and Nature of Intake Interviews

Example of an Intake Interview

Learning Opportunities
4. Additional Skills to Gather Information and Understand Background: Structuring the Initial Session, Early Recollections, Genograms, Life
Chronology

Structuring an Initial Session

Making Discussion of the Past Relevant and Meaningful

Eliciting Strengths from Discussion of Backgroun

Early Recollections

Genograms

The Lifeline or Life Chronology

Learning Opportunities
PART III USING FUNDAMENTAL SKILLS TO ELICIT AND MODIFY EMOTIONS
5. Using Fundamental Skills to Elicit and Clarify Emotions
Importance of Emotions

Definition of Emotions or Feelings

Benefits of Attending To and Understanding Emotions

Drawbacks to Focusing on Emotions

Guidelines for Understanding and Addressing Emotions

Effective Attending

Tracking

Verbal Encouragers

Summarization

Communicating Accurate Empathy and Reflecting Feelings

Learning Opportunities
6. Using Fundamental Skills to Contain and Change Emotions
Positive Psychology

Strength-Based Reflections of Feeling

Facilitating Expression and Identification of Emotions

Additional Strategies to Elicit and Identify Emotions

Barriers and Solutions to Eliciting Clients' Emotions

Nonverbal Expressions of Emotion

Using Focusing to Help People Access and Express Emotions

Using Gestalt Strategies to Help People Access and Express Emotions

The Clinician's Verbal and Nonverbal Expression of Emotions

Containment of Emotions

Changing Emotions

Learning Opportunities
PART IV USING FUNDAMENTAL SKILLS TO IDENTIFY, ASSESS, AND MODIFY THOUGHTS
7. Using Fundamental Skills to Elicit, Assess, and Modify Thoughts and Accompanying Emotions and Actions
The Power of Thoughts

Terminology

Eliciting Thoughts

Providing Education on Cognitive Therapy

Linking Thoughts to Emotions and Actions

Determining Whether Thoughts are Helpful or Harmful

Assessing the Validity of the Thoughts

Categorizing Distorted Thoughts

Modifying Distorted Cognitions

Chaning Emotions and Actions

Rerating Thoughts and Emotions

Overview of Process of Modifying Thoughts

Learning Opportunities
8. Additional Skills to Elicit, Assess, and Modify Thoughts
Building on Fundamental Cognitive Skills

Reflections of Meaning

Identifying a Focal Concern

Problem Solving

Information Giving

Decision Making

Specific Skills Related to Modifying Thoughts

Positive Self-Talk and Affirmations

Anchoring

Reframing

Thought Stopping

Meditation

Mindfulness Meditation

Journal Writing

Mind Mapping

Learning Opportunities
PART V SKILLS TO IDENTIFY, ASSESS, AND CHANGE ACTIONS AND BEHAVIORS
9. Fundamental Skills to Identify, Assess, and Change Actions and Behaviors
Importance of Actions and Behaviors

Development of Behavior Therapy

Describing and Measuring Problematic Actions and Behaviors

Establishing Goals

Creating a Behavior Change Contract

Review of Steps to Effect Behavioral Change
10. Additional Strategies for Identifying, Assessing, and Changing Actions and Behaviors
Specific Skills to Promote Change in Actions

Developing Between-Session Tasks to Promote Change

Potential Barriers to Change

General Guidelines for Promoting Behavioral Change

Empowerment

Challenge and Caring Confrontation

Visualization

Behavioral Rehearsal

Modeling

Skill Development

Breaking Down Behaviors into Small Steps

Possibility or Presuppositional Language

Relaxation

Systematic Desensitization
PART VI SOLIDIFYING FUNDAMENTAL SKILLS
11. Reviewing, Integrating, and Reinforcing Learning
Checklist of Clinician Strengths

Characteristics of the Expert Clinician

Opportunity to Apply and Practice Skills

Intake Interview of Samuel Gold
References
Index
Purchase Info ?
With CourseSmart eTextbooks and eResources, you save up to 60% off the price of new print textbooks, and can switch between studying online or offline to suit your needs.
Once you have purchased your eTextbooks and added them to your CourseSmart bookshelf, you can access them anytime, anywhere.
Buy Access
Fundamental Skills for Mental Health Professionals, CourseSmart eTextbook
Format: Safari Book
$45.99 | ISBN-13: 978-0-13-713234-8