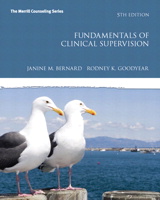 Description
The standard for clinical supervision.
Fundamentals of Clinical Supervision, 5/e offers a comprehensive, interdisciplinary presentation that makes it the most highly cited publication in the field. Addressing essential topics for supervisors, it has earned a reputation as an authoritative resource for anyone seeking certification as an Approved Clinical Supervisor. Emphasizing central themes from a variety of mental health professions, the book covers supervision models, supervision modalities, administrative issues and professional concerns. This Fifth Edition covers the latest research, more on second-generation models of supervision, a new section on triadic supervision, and the latest on technology. Its one-of-a-kind supervision toolkit, scholarly approach, and topic coverage sets the book apart.
Table of Contents
BRIEF TABLE OF CONTENTS
PART I Introduction and General Approaches to Supervision 1
CHAPTER 1 Introduction to Clinical Supervision 2
CHAPTER 2 Supervision Models 21
PART II Dimensions of the Supervision Relationship 63
CHAPTER 3 Processes and Issues of the Supervisory Triad and Dyad 64
CHAPTER 4 Supervisee and Supervisor Factors Affecting the
Relationship 86
CHAPTER 5 Multicultural Supervision 107
PART III The Delivery of Clinical Supervision 131
CHAPTER 6 Organizing the Supervision Experience 132
CHAPTER 7 Individual Supervision 153
CHAPTER 8 Group Supervision 180
CHAPTER 9 Live Supervision 200
PART IV Professional Responsibilities of Clinical Supervisors 221
CHAPTER 10 Evaluation 222
CHAPTER 11 Ethical and Legal Foundations for Supervision
Practice 252
PART V Promoting the Specialty of Clinical Supervision Through
Training and Research 281
CHAPTER 12 Teaching and Researching Supervision 282
The Supervisor's Toolbox 304
References 358
Name Index
Subject Index
Purchase Info ?
With CourseSmart eTextbooks and eResources, you save up to 60% off the price of new print textbooks, and can switch between studying online or offline to suit your needs.
Once you have purchased your eTextbooks and added them to your CourseSmart bookshelf, you can access them anytime, anywhere.
Buy Access
Fundamentals of Clinical Supervision, CourseSmart eTextbook, 5th Edition
Format: Safari Book
$60.99 | ISBN-13: 978-0-13-283607-4