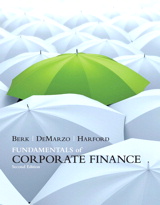 Description
The core concepts you expect. The new ideas you want. The pedagogy you need to succeed.

Fundamentals of Corporate Finance's applied perspective cements understanding of the modern-day core principles by equipping students with a problem-solving methodology and profiling real-life financial management practices—all within a clear valuation framework.

The second edition focuses on new topics and includes an increased emphasis on valuation.


Table of Contents
Part I: Introduction
Chapter 1: Corporate Finance and the Financial Manager
Chapter 2: Introduction to Financial Statement Analysis
Part II: Interest Rates and Valuing Cash Flows
Chapter 3: Time Value of Money: An Introduction
Chapter 4: Time Value of Money: Valuing Cash Flow Streams
Chapter 5: Interest Rates
Chapter 6: Bond Valuation
Chapter 7: Stock Valuation
Part III: Valuation and the Firm
Chapter 8: Investment Decision Rules
Chapter 9: Fundamentals of Capital Budgeting
Chapter 10: Stock Valuation: A Second Look
Part IV: Risk and Return
Chapter 11: Risk and Return in Capital Markets
Chapter 12: Systematic Risk and the Equity Risk Premium
Chapter 13: The Cost of Capital
Part V: Long-Term Financing
Chapter 14: Raising Capital
Chapter 15: Debt Financing
Part VI: Capital Structure and Valuation
Chapter 16: Capital Structure
Chapter 17: Payout Policy
Part VII: Financial Planning
Chapter 18: Financial Modeling and Pro Forma Analysis
Chapter 19: Working Capital Management
Chapter 20: Short-Term Financial Planning
Part VIII: Special Topics
Chapter 21: Option Applications and Corporate Finance
Chapter 22: Mergers and Acquisitions
Chapter 23: International Corporate Finance


Enhance your learning experience with text-specific study materials.