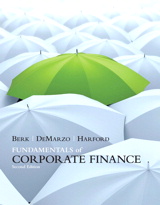 Description
For students taking a undergraduate corporate finance or financial management course.

The core concepts you expect. The new ideas you want. The pedagogy your students need to succeed.

Fundamentals of Corporate Finance's applied perspective cements students' understanding of the modern-day core principles by equipping students with a problem-solving methodology and profiling real-life financial management practices, all within a clear valuation framework.
Table of Contents
Part I: Introduction
Chapter 1: Corporate Finance and the Financial Manager
Chapter 2: Introduction to Financial Statement Analysis
Part II: Interest Rates and Valuing Cash Flows
Chapter 3: Time Value of Money: An Introduction
Chapter 4: Time Value of Money: Valuing Cash Flow Streams
Chapter 5: Interest Rates
Chapter 6: Bond Valuation
Chapter 7: Stock Valuation
Part III: Valuation and the Firm
Chapter 8: Investment Decision Rules
Chapter 9: Fundamentals of Capital Budgeting
Chapter 10: Stock Valuation: A Second Look
Part IV: Risk and Return
Chapter 11: Risk and Return in Capital Markets
Chapter 12: Systematic Risk and the Equity Risk Premium
Chapter 13: The Cost of Capital
Part V: Long-Term Financing
Chapter 14: Raising Capital
Chapter 15: Debt Financing
Part VI: Capital Structure and Valuation
Chapter 16: Capital Structure
Chapter 17: Payout Policy
Part VII: Financial Planning
Chapter 18: Financial Modeling and Pro Forma Analysis
Chapter 19: Working Capital Management
Chapter 20: Short-Term Financial Planning
Part VIII: Special Topics
Chapter 21: Option Applications and Corporate Finance
Chapter 22: Mergers and Acquisitions
Chapter 23: International Corporate Finance


Purchase Info ?
With CourseSmart eTextbooks and eResources, you save up to 60% off the price of new print textbooks, and can switch between studying online or offline to suit your needs.
Once you have purchased your eTextbooks and added them to your CourseSmart bookshelf, you can access them anytime, anywhere.
Buy Access
Fundamentals of Corporate Finance, CourseSmart eTextbook, 2nd Edition
Format: Safari Book
$122.99 | ISBN-13: 978-0-13-214824-5