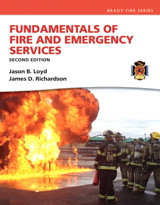 Description
For courses in Fire and Emergency Services
Fundamentals of Fire and Emergency Services, Second Edition, is designed to introduce students to the firefighting profession as well as provide career firefighters a resource for continued learning. Offering a comprehensive overview of the fundamentals of modern fire service, the text covers the history of the fire service, career opportunities and education, fire dynamics, fire prevention, and more. With an emphasis on critical thinking, each chapter follows the FESHE curriculum and outlines specific learning objectives that address the ever-increasing challenges of this dynamic profession.
Online supplemental teaching materials are available to help instructors and students get the most from their EMS course.
Resource Central, accessed through www.bradybooks.com, offers instructors online supplemental teaching material, such as test banks and customizable PowerPoint lectures to aid in the classroom. These instructor resources are also available through Pearson's Instructor Resource Center.
Students have access to a variety online study aids tailored to their fire service course.
Table of Contents
Chapter 1: History of the Fire Service
Chapter 2: Fire and Emergency Services Career Opportunities
Chapter 3: The Selection Process
Chapter 4: Training and Higher Education
Chapter 5: Fire Department Resources
Chapter 6: Fire Dynamics
Chapter 7: Building Construction
Chapter 8: Fire Prevention Codes and Ordinances
Chapter 9: Fire Protection Systems
Chapter 10: Organizational Structure and Emergency Incident Management Systems
Chapter 11: Pre-incident Planning, Fire Strategy, and Tactics
Chapter 12: Emergency Medical Services & Emergency Management
Appendix A: On Scene Suggested Answers
Appendix B: Review Question Answers
Appendix C: Stop and Think Suggested Answers
Appendix D: Standard Operating Procedures (SOPs)
Glossary
Purchase Info ?
With CourseSmart eTextbooks and eResources, you save up to 60% off the price of new print textbooks, and can switch between studying online or offline to suit your needs.
Once you have purchased your eTextbooks and added them to your CourseSmart bookshelf, you can access them anytime, anywhere.
Buy Access
Fundamentals of Fire and Emergency Services, CourseSmart eTextbook, 2nd Edition
Format: Safari Book
$41.99 | ISBN-13: 978-0-13-341935-1