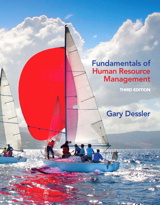 Description
Directed primarily toward undergraduate courses in human resource management, this text also provides practical content to current and aspiring industry professionals.
Fundamentals of Human Resource Management covers a wide range of HR topics and shows readers the importance of human resource management within the restraints of a compact semester. Offering a wealth of functional examples and applications, this text emphasizes the notion that all managers need basic human resource management skills.
This edition is the first text on the market to build its core around the talent management process—which the author defines as the goal-oriented and integrated process of planning, recruiting, developing, managing, and compensating employees.
Note: This is the standalone book, if you want the book/access card order the ISBN below:
013335508X / 9780133355086 Fundamentals of Human Resource Management Plus MyManagementLab with Pearson eText -- Access Card Package
Package consists of:
0132994909 / 9780132994903 Fundamentals of Human Resource Management
0133020215 / 9780133020212 MyManagementLab with Pearson eText -- Access Card -- for Fundamentals of Human Resource Management
Table of Contents
I. INTRODUCTION
1. Managing Human Resources Today
2. Managing Equal Opportunity and Diversity
3. Human Resource Strategy and Analysis
II. STAFFING. WORKFORCE PLANNING AND EMPLOYMENT
4. Job Analysis and Talent Management
5. Personnel Planning and Recruiting
6. Selecting Employees
III. TRAINING AND HUMAN RESOURCE DEVELOPMENT
7. Training and Developing Employees
8. Performance and Talent Management
9. Managing Employee Turnover, Engagement, and Careers
IV. COMPENSATION AND TOTAL REWARDS
10. Developing Compensation Plans
11. Pay for Performance and Employee Benefits
V. EMPLOYEE AND LABOR RELATIONS
12. Ethics, Employee Relations, and Fair Treatment at Work
13. Working with Unions and Resolving Disputes
14. Improving Occupational Safety, Health, and Risk Management
VI. SPECIAL ISSUES IN HUMAN RESOURCE MANAGEMENT
Module A. Managing HR Globally
Module B. Managing Human Resources in Small and Entrepreneurial Firms
Appendix A. PHR and SPHR Knowledge Base
Appendix B. Comprehensive Cases
Glossary
Name/Organization Index
This title is also sold in the various packages listed below. Before purchasing one of these packages, speak with your professor about which one will help you be successful in your course.
Package ISBN-13: 9780134092539
Includes this title packaged with:
Interpretive Simulations Access Code Card Group B
INTERPRETIVE
2014 MyManagementLab with Pearson eText -- Access Card -- for Fundamentals of Human Resource Management, 3rd Edition
Gary Dessler
$288.40 $276.14 | Add to Cart