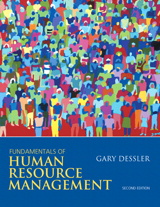 Description
For introductory courses in Human Resource Management.

With its brief and modular format, Fundamentals of Human Resource Management is ideal for professors who want flexibility while maintaining the integrity of the material. Dessler offers a wealth of functional examples and applications, and emphasizes the notion that all managers need basic human resource management skills. All material meets the latest SHRM guidelines.

Table of Contents
Part 1: Introduction
Chapter 1. Managing Human Resources Today
Chapter 2. Managing Equal Opportunity and Diversity
Chapter 3. Strategic Human Resource Management
Part 2: Staffing and Talent Management
Chapter 4. Recruiting and Talent Management
Chapter 5. Selecting Employees
Chapter 6. Training and Developing Employees
Chapter 7. Performance and Talent Management
Chapter 8. Compensating Employees
Part 3: Employee and Labor Relations
Chapter 9. Ethics, Employee Rights, and Fair Treatment at Work
Chapter 10. Working with Unions and Resolving Disputes
Chapter 11. Improving Occupational Safety, Health, and Security
Part 4: Special Issues in Human Resource Management
Chapter 12. Managing Human Resources in Entrepreneurial Firms
Chapter 13. Managing HR Globally
Chapter 14. Building High-Performance Work
Purchase Info ?
With CourseSmart eTextbooks and eResources, you save up to 60% off the price of new print textbooks, and can switch between studying online or offline to suit your needs.
Once you have purchased your eTextbooks and added them to your CourseSmart bookshelf, you can access them anytime, anywhere.
Buy Access
Fundamentals of Human Resource Management, CourseSmart eTextbook, 2nd Edition
Format: Safari Book
$85.99 | ISBN-13: 978-0-13-139400-1