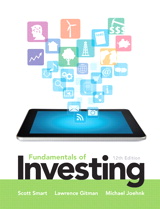 Description
The core concepts and tools students need to make informed investment decisions.

Fundamentals of Investing helps students make informed investment decisions in their personal and professional lives by providing a solid foundation of core concepts and tools. Gitman/Joehnk/Smart use practical, hands-on applications to introduce the topics and techniques used by both personal investors and money managers. The authors integrate a consistent framework based on learning goals to keep students focused on what is most important in each chapter. Students leave the course with the necessary information for developing, implementing, and monitoring a successful investment program.
Table of Contents
I. PREPARING TO INVEST
1. The Investment Environment
2. Securities Markets and Transactions
3. Investment Information and Securities Transactions
II. IMPORTANT CONCEPTUAL TOOLS
4. Return and Risk
4A. The Time Value of Money
5. Modern Portfolio Concepts
III. INVESTING IN COMMON STOCKS
6. Common Stocks
7. Analyzing Common Stocks
8. Stock Valuation
9. Market Efficiency and Behavioral Finance
IV. INVESTING IN FIXED-INCOME SECURITIES
10. Fixed-Income Securities
11. Bond Valuation
V. PORTFOLIO MANAGEMENT
12. Mutual Funds and Exchange-Traded Funds
13. Managing Your Own Portfolio
VI. DERIVATIVE SECURITIES
14. Options: Puts and Calls
15. Commodities and Financial Futures
Glossary
Index
Credits
WEB CHAPTERS
16. Investing in Preferred Stocks
17. Tax-Advantaged Investments
18. Real Estate and Other Tangible Investments
Purchase Info ?
With CourseSmart eTextbooks and eResources, you save up to 60% off the price of new print textbooks, and can switch between studying online or offline to suit your needs.
Once you have purchased your eTextbooks and added them to your CourseSmart bookshelf, you can access them anytime, anywhere.
Buy Access
Fundamentals of Investing, CourseSmart eTextbook, 12th Edition
Format: Safari Book
$116.99 | ISBN-13: 978-0-13-307536-6