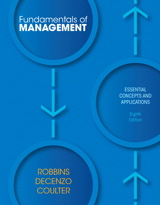 Description
For Principles of Management courses.
The practical tools of management presented through in-depth practice.

Robbins/DeCenzo is a brief, paperback text that gives students more depth and breadth with practical tools to practice their management skills than any other textbook.
The eighth edition provides a self-contained section on developing management skills and includes new exercises, modules, and boxes.
Combine this textbook with MyManagementLab! See the hands in the air, hear the roar of discussion—be a Rock Star in the classroom. MyManagementLab makes it easier for you to be a rock star in the classroom by helping you hold students accountable for class preparation, and getting students engaged in the material through an array of relevant teaching and media resources. Visit MyManagementLab.com for more information.
Table of Contents
Introduction
Chapter 1: Managers and Management
Module: A Brief History of Management's Roots
Chapter 2: The Management Environment
Chapter 3: Integrative Managerial Issues
Planning
Chapter 4: Foundations of Decision Making
Module: Quantitative Decision-Making Aids
Chapter 5: Foundations of Planning
Organizing
Chapter 6: Organization Structure
Chapter 7: Managing Human Resources
Module: Managing Your Career
Chapter 8: Managing Change and Innovation
Leading
Chapter 9: Foundations of Individual Behavior
Chapter 10: Understanding Groups and Managing Work Teams
Chapter 11: Motivating and Rewarding Employees
Chapter 12: Leadership and Trust
Chapter 13: Managing Communication and Information
Controlling
Chapter 14: Foundations of Control
Chapter 15: Operations Management
Module: Managing Entrepreneurial Ventures
Purchase Info ?
With CourseSmart eTextbooks and eResources, you save up to 60% off the price of new print textbooks, and can switch between studying online or offline to suit your needs.
Once you have purchased your eTextbooks and added them to your CourseSmart bookshelf, you can access them anytime, anywhere.
Buy Access
Fundamentals of Management, CourseSmart eTextbook, 8th Edition
Format: Safari Book
$96.99 | ISBN-13: 978-0-13-265517-0