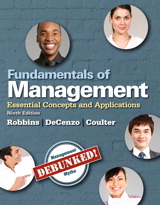 Description
For Principles of Management courses.
¿
The practical tools of management presented through in-depth practice.
¿
Fundamentals of Management is a brief, paperback text that gives students more depth and breadth with practical tools to practice their management skills than any other textbook. The Ninth Edition introduces a new and exciting design and includes new chapter openers, case applications, and exercises.
¿
Combine this textbook with MyManagementLab! See the hands in the air, hear the roar of discussion–be a Rock Star in the classroom. MyManagementLab makes it easier for you to be a rock star in the classroom by helping you hold students accountable for class preparation, and getting students engaged in the material through an array of relevant teaching and media resources. Visit MyManagementLab.com for more information.
¿
This program will provide a better teaching and learning experience—for you and your students. Here's how:
¿
Personalize Learning with MyManagementLab: Inspire the exchange of new ideas and foster intriguing discussions with the abundant resources found in MyManagementLab.
Encourage Students to Apply Concepts: Throughout the text, the authors provide examples of how concepts work, while providing an opportunity to practice and review material.¿
Stay on the Cutting-Edge of Management Practice: There are always new issues and ideas confronting managers, which is why this edition now includes new and updated exercises, modules, and boxes.
Note:¿You are purchasing a standalone product; MyEconLab does not come packaged with this content. If you would like to purchase¿both¿the physical text and MyEconLab search for ISBN-10: 0133773213 ISBN-13: 9780133773217. That package includes ISBN-10: 013349991X ¿/ISBN-13: 9780133499919 and ISBN-10: 0133506835 / ISBN-13: 9780133506839 .
MyEconLab is not a self-paced technology and should only be purchased when required by an instructor.¿
Table of Contents
I. Introduction
1. Managers and Management
History Module A Brief History of Management's Roots
2. The Management Environment
3. Integrative Managerial Issues
II. Planning
4. Foundations of Decision Making
Quantitative Module Quantitative Decision-Making Aids
5. Foundations of Planning
III. Organizing
6. Organizational Structure and Design
7. Managing Human Resources
Career Module Building Your Career
8. Managing Change and Innovation
IV. Leading
9. Foundations of Individual Behavior
10. Understanding Groups and Managing Work Teams
11. Motivating and Rewarding Employees
12. Leadership and Trust
13. Managing Communication and Information
V. Controlling
14. Foundations of Control
15. Operations Management
Entrepreneurship Module Managing Entrepreneurial Ventures
Glossary
Index