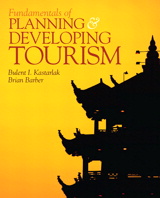 Description
For all courses in tourism development planning for both the public and private sectors.
Fundamentals of Planning and Developing Tourism brings into focus the growing importance of tourism in developing economies of the world, for social change, alleviating poverty, and achieving sustained growth. It offers a complete, organized, and quantifiable methodology for tourism development planning that reflects economics, marketing, and crucial issues such as conservation, capacity constraints, and social acceptability. It covers all steps used for analyzing and planning tourism development in free market, mixed, and centrally-planned economies. The text is replete with historical explorations and examples, including several real life case studies illuminating both successes and failures in tourism planning and development.
Table of Contents
PART I. BASIC PRINCIPLES OF PLANNING AND DEVELOPING TOURISM
1. Understanding Tourism Development
2. Toward a General Theory of Tourism Planning and Development. the BIK System
3. Prerequisites for Sustainable Tourism
4. Examples of General and Special Interest Tourism
PART II. PLANNING ISSUES FOR TOURISM DEVELOPMENT
5. Market System and Planned Growth
6. Practicing Sustainable Tourism Development
PART III. PLANNING PROCESSES FOR TOURISM DEVELOPMENT
7. Planning Cycle in Government Assisted Tourism Development
8. Tourism Development in Market Economic Systems
9. Government Policies and Legislations for Tourism Development
10. Financing Government and Private Sector Tourism Projects
PART IV. TECHNIQUES FOR PLANNING AND DEVELOPING TOURISM
11. Surveying the Tourism Product
12. Analyzing Tourism Economy and Tourism Product
13. Planning Tourism At National, Regional, and Local Destination Levels
14. Project Design, Permit and Construction
15. Project Financing, Agreements and Ownership
16. Computer Simulations, Computer Aided Design (CAD) and Geographic Information System (GIS)
17. Managing, Planning and Marketing Tourism
PART V. HISTORIES AND CASE STUDIES OF TOURISM PLANNING
• Waterfront Tourism Destination and Redevelopment, Boynton Beach, Florida, USA
• Suite Hotel & Resort (Apart-Hotel), Marmaris, Mu
Purchase Info ?
With CourseSmart eTextbooks and eResources, you save up to 60% off the price of new print textbooks, and can switch between studying online or offline to suit your needs.
Once you have purchased your eTextbooks and added them to your CourseSmart bookshelf, you can access them anytime, anywhere.
Buy Access
Fundamentals of Planning and Developing Tourism, CourseSmart eTextbook
Format: Safari Book
$45.99 | ISBN-13: 978-0-13-509179-1