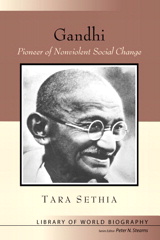 Description
For world history survey courses (after 1500) and courses on modern India, Gandhi, peace and nonviolence, conflict resolution, and sustainable development.
Examines the life and work of Gandhi within a global context, with an emphasis on how Gandhi's ideas and life shaped the twenthieth-century world and are of growing relevance today.
Gandhi: Pioneer of Nonviolent Social Change, part of the Library of World Biography Series, is aimed primarily at undergraduates with little or no background knowledge of Gandhi or his ideas. This book covers the important aspects of his life and the major components of his philosophy. Through an examination of Gandhi's life and legacy, particularly as a pioneer in the quest for justice and freedom through nonviolent means, this biography reveals for students lessons that inform our world--both present and future.
Each interpretive biography in the Library of World Biography Series focuses on a person whose actions and ideas either significantly influenced world events or whose life reflects important themes and developments in global history.
Table of Contents
Introduction
CHAPTER 1: FORMATIVE YEARS
CHAPTER 2: TRANSFORMATIVE YEARS
CHAPTER 3: SATYAGRAHA IN SOUTH AFRICA
CHAPTER 4: HIND SWARAJ: GANDHI'S VISION OF FREEDOM
CHAPTER 5: INTRODUCTION OF SATYAGRAHA IN INDIA
CHAPTER 6: NONCOOPERATION AND THE 1920S
CHAPTER 7: CIVIL DISOBEDIENCE AND THE 1930S
CHAPTER 8: QUIT INDIA TO 1947
CHAPTER 9: FASTS: SATYAGRAHA TO THE LAST
CHAPTER 10: GANDHI IN OUR WORLD: LEGACIES
Select Bibliography