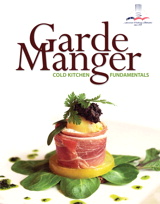 Description
For courses in the Cold Kitchen, Banquets & Catering & Charcuterie.
ACF's Cold Kitchen Fundamentals covers all aspects of the garde manger, from simple salad prep, to dressing and sauce making, to appetizers, soups and sandwiches, to charcuterie, cheese making, and ice carving. Each chapter is rich with photos, chef's tips, and recipes and each unit includes learning activities and benchmark formulas that encourage specific learning outcomes. Offering unique coverage of competition and food technology, the book helps students understand the underlying principals of the cold kitchen and develop the skills needed to produce their own signature sauces, salads, and more!
Table of Contents
Section One History of the Cold Kitchen and Basic Sanitation
Unit 1 Introduction of the Cold Kitchen
Unit 2 Sanitation and Safety
Section Two Equipment and Ingredients
Unit 3 Basic Equipment
Unit 4 Flavorings
Unit 5 Produce, Legumes and Grains
Unit 6 Proteins in the Cold Kitchen
Section Three Appetizers
Unit 7 Canapés
Unit 8 Appetizers
Section Four Sandwiches and Cold Soups
Unit 9 Sandwiches
Unit 10 Cold Soups
Section Five Salads
Unit 11 Salad Basics
Unit 12 Side Salads
Unit 13 Main Course Salads
Section Six Dressings, Dips and Cold Sauces
Unit 14 Dressings
Unit 15 Cold Sauces, Dips, Aioli, Salsas, Relishes and Chutneys
Section Seven Fabrication
Unit 16 Curing, Smoking, Marinating, Drying and Pickling
Unit 17 Basic Charcutière
Section Eight Buffets & Catering
Unit 18 Buffets
Unit 19 Catering
Section Nine The Craft
Unit 20 Decorative Work, the Heart of the Garde Manger
Unit 21 Preparing for Culinary Competitions
Appendices
Appendix A Safety Charts
Appendix B Miscellaneous Charts
Appendix C Food Charts
Appendix D ACF COMPETITIONS
Appendix E Sources
Glossary
Bibliography
Purchase Info ?
With CourseSmart eTextbooks and eResources, you save up to 60% off the price of new print textbooks, and can switch between studying online or offline to suit your needs.
Once you have purchased your eTextbooks and added them to your CourseSmart bookshelf, you can access them anytime, anywhere.
Buy Access
Garde Manger: Cold Kitchen Fundamentals, CourseSmart eTextbook
Format: Safari Book
$93.99 | ISBN-13: 978-0-13-500584-2