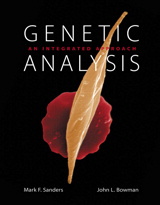 Description
Informed by many years of genetics teaching and research experience, authors Mark Sanders and John Bowman use an integrative approach that helps contextualize three core challenges of learning genetics: solving problems, understanding evolution, and understanding the connection between traditional genetics models and more modern approaches.
Table of Contents
1 The Molecular Basis of Heredity, Variation, and Evolution
2 Transmission Genetics
3 Cell Division and Chromosome Heredity
4 Gene Interaction
5 Genetic Linkage and Mapping in Eukaryotes
6 Genetic Analysis and Mapping in Bacteria and Bacteriophage
7 DNA Structure and Replication
8 Molecular Biology of Transcription and RNA Processing
9 The Molecular Biology of Translation
10 The Integration of Genetic Approaches: Understanding Sickle Cell Disease
11 Chromosome Structure
12 Gene Mutation, DNA Repair, and Homologous Recombination
13 Chromosome Aberrations and Transposition
14 Regulation of Gene Expression in Bacteria and Bacteriophage
15 Regulation of Gene Expression in Eukaryotes
16 Forward Genetics and Recombinant DNA Technology
17 Applications of Recombinant DNA Technology and Reverse Genetics
18 Genomics: Genetics from a Whole-Genome Perspective
19 Cytoplasmic Inheritance and the Evolution of Organelle Genomes
20 Developmental Genetics
21 Genetic Analysis of Quantitative Traits
22 Population Genetics and Evolution
Purchase Info ?
With CourseSmart eTextbooks and eResources, you save up to 60% off the price of new print textbooks, and can switch between studying online or offline to suit your needs.
Once you have purchased your eTextbooks and added them to your CourseSmart bookshelf, you can access them anytime, anywhere.
Buy Access
Genetic Analysis: An Integrated Approach, CourseSmart eTextbook
Format: Safari Book
$86.99 | ISBN-13: 978-0-321-70712-3