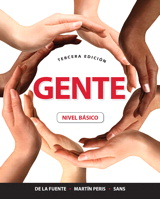 Description
Gente is the only truly task-based program that transports you, the learner, into an immersive environment. Learners interact with authentic language from the Hispanic world through a series of carefully-sequenced communicative activities culminating in a real-life task. "Tasks" are collaborative projects that integrate speaking, listening, reading and writing to complete them with the skills that are needed to communicate effectively in the real world! With Gente, you learn by doing, communicate with a purpose and emerge as an independent learner with the confidence to speak Spanish in a spontaneous, natural way.
Table of Contents
1: Gente que estudia español
2: Gente con gente
3: Gente de vacaciones
4: Gente de compras
5: Gente en forma
6: Gente en la case y en el trabajo
7: Gente que viaja
8: Gente que come bien
9: Gente de ciudad
10: Gente e historias (I)
11: Gente e historias (II)
12: Gente sana
13: Gente y lenguas
14: Gente con personalidad
15: Gente que lo pasa bien
16: Gente innovadora
17: Gente que cuenta
18: Gente de negocios
19: Gente que opina
20: Gente con sentimientos
Enhance your learning experience with text-specific study materials.
These online resources are available at no cost.
Companion Website for Gente: Nivel básico, 3rd Edition
This title is also sold in the various packages listed below. Before purchasing one of these packages, speak with your professor about which one will help you be successful in your course.
Purchase Info
Digital Choices ?
MyLab & Mastering with Pearson eText is a complete digital substitute for a print value pack at a lower price.
MyLab & Mastering ?
MyLab & Mastering products deliver customizable content and highly personalized study paths, responsive learning tools, and real-time evaluation and diagnostics. MyLab & Mastering products help move students toward the moment that matters most—the moment of true understanding and learning.
eTextbook ?
With CourseSmart eTextbooks and eResources, you save up to 60% off the price of new print textbooks, and can switch between studying online or offline to suit your needs.
Once you have purchased your eTextbooks and added them to your CourseSmart bookshelf, you can access them anytime, anywhere.
Print Choices
Loose Leaf Version ?
Books a la Carte are less-expensive, loose-leaf versions of the same textbook.