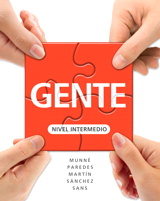 Description
Following Gente: Nivel basico in its philosophy and task-based approach to teaching and learning a second language, with Gente: Nivel intermedio students learn intermediate level Spanish through interaction and collaborative work.
Table of Contents
1 Gente de cine
2 Gente genial
3 Gente y aventura
4 Gente solidaria
5 Gente con corazón
6 Gente y productos
7 Gente y culturas
8 Gente y propuestas
9 Gente y emociones
10 Gente y noticias
Purchase Info ?
With CourseSmart eTextbooks and eResources, you save up to 60% off the price of new print textbooks, and can switch between studying online or offline to suit your needs.
Once you have purchased your eTextbooks and added them to your CourseSmart bookshelf, you can access them anytime, anywhere.
Buy Access
Gente: Nivel intermedio, CourseSmart eTextbook
Format: Safari Book
$52.99 | ISBN-13: 978-0-205-79618-2