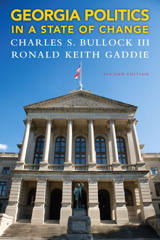 Description
Updated in its 2nd edition,Georgia Politics in a State of Change, explores Georgia's constitution, politics, and government. It combines historical background and the most current scholarship to tell the story of Georgia politics from the state's founding to the institutions, policies, and people changing Georgia today. Written with an entertaining, conversational style, this concise text provides expansive treatment of Georgia politics and covers new ground not available in any other book on the subject.
Table of Contents
Part I: Georgia Politics: From Talmadgism to Two-Party Competition
1. Georgia and the Rule of the Rustics
2. Georgia Geography and Politics
3. Republican Rebirth, Democratic Delaying Actions
Part II: Constitutions and Institutions
4. The Georgia Constitution
5. The Georgia General Assembly
6. The Executive Branch
7. The Judicial System
8. Local Government
Part III: Agents of Change
9. Voting Rights in Georgia
10. Georgiamanders
Part IV: Linking the Public to the Government
11. Political Parties
12. Interest Groups
13. The Electoral Process
14. Education Policy
This title is also sold in the various packages listed below. Before purchasing one of these packages, speak with your professor about which one will help you be successful in your course.
Package ISBN-13: 9780134112060
Includes this title packaged with:
NEW MyPoliSciLab with Pearson eText -- Valuepack Access Card
. Pearson Education, Larry J. Sabato, Alixandra B. Yanus
Understanding American Politics and Government, 2012 Election Edition, Books a la Carte Edition, 3rd Edition
John J. Coleman, Kenneth M. Goldstein, William G. Howell
$146.80 | Add to Cart
Purchase Info
Digital Choices ?
MyLab & Mastering with Pearson eText is a complete digital substitute for a print value pack at a lower price.
MyLab & Mastering ?
MyLab & Mastering products deliver customizable content and highly personalized study paths, responsive learning tools, and real-time evaluation and diagnostics. MyLab & Mastering products help move students toward the moment that matters most—the moment of true understanding and learning.
eTextbook ?
With CourseSmart eTextbooks and eResources, you save up to 60% off the price of new print textbooks, and can switch between studying online or offline to suit your needs.
Once you have purchased your eTextbooks and added them to your CourseSmart bookshelf, you can access them anytime, anywhere.