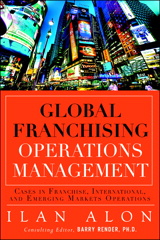 Description
Franchising now represents more than 10% of the US economy and 50% of US retail sales, and this winning business model is now showing exceptional promise outside the US as well. Both franchisors and franchisees are beginning to discover immense opportunities to extend operations or build new franchises in emerging markets. Of course, success will depend on their ability to execute – and extending successful franchising operations outside their home markets requires significant new skills, knowledge, and expertise. In Global Franchising Operations Management, the field's leading expert and author brings together an unprecedented collection of in-depth cases that illuminate the field's unexplored opportunities, key pitfalls, and proven best practices. Ilan Alon thoroughly covers key challenges from both the franchisor and franchisee perspective, teaching lessons learned by Marks and Spencer, Ruth's Chris Steakhouse, Athlete's Foot, Kodak, Sari Organic, and other pioneers. Through these cases, he addresses pivotal issues such as: Should you take your franchise operation global? What unique marketing and demand management challenges will you face in doing so? Do Master Franchisee or Micro-Franchising strategies make sense for you? What are their risks, and can those risks be managed? How can you efficiently manage logistics, supply chains, and operations in unfamiliar markets? Whatever your role or potential role in global franchising operations, this book will be an indispensable resource.
Table of Contents
Chapter 1 Introduction 1

Part I: To Franchise or Not to Franchise
Chapter 2 San Francisco Coffee House: An American Style Franchise in Croatia 19
Ilan Alon, Mirela Alpeza, and Aleksandar Erceg
Chapter 3 Trying To Create a Stir: Opening a Coffee Shop in Korea 35
Gyewan Moon and Allen H. Kupetz
Chapter 4 International Marketing and Franchising at Marks & Spencer 49
Ilan Alon

Part II: In Search of Global Opportunities
Chapter 5 Estimating Demand in Emerging Markets for Kodak Express 75
David M. Currie and Ilan Alon
Chapter 6 Ruth's Chris Steak House: The High Stakes of International Expansion 87
Allen H. Kupetz and Ilan Alon

Part III: Franchising in Emerging Markets and Developing Countries
Chapter 7 Master International Franchising in China: The Athlete's Foot, Inc. (Part A) 101
Amber Xu and Ilan Alon
Chapter 8 Master International Franchising in China: The Athlete's Foot, Inc. (Part B) 119
Amber Xu and Ilan Alon
Chapter 9 Social Entrepreneurship and Sustainable Farming in Indonesia 125
Ilan Alon and Eve Misati
Chapter 10 Final Reflections and Epilogues 145

Index 185
Purchase Info
ISBN-10: 0-13-288431-3
ISBN-13: 978-0-13-288431-0
Format: Safari PTG
This publication is not currently for sale.