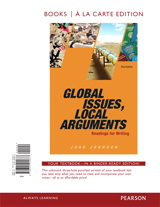 Description
Global Issues, Local Arguments: Readings for Writing features high-interest arguments on significant global issues and emphasizes their connection to our lives—all the while developing critical thinking, rhetorical, analysis, synthesis, argumentation, and research skills.
Table of Contents
Preface
Chapter 1: Exploring and Defining Globalization
Exploration One: How Wide Is Your Global View?
Exploration Two: Globalization at Work
What Does Globalization Mean?
Controversies over Definitions and Interpretations of Globalization
Controversies over Responses to Globalization
Navigating the Controversies
*Exploration Three: Your Global Positioning Profile
Chapter 2: Analyzing and Writing Arguments
A Brief Introduction to Argument
Issue Questions, Claims, and Stakeholders
Basel Action Network, "The e-Waste Crisis"
The Core of an Argument: A Claim with Reasons
Assumptions in Argument
The Development of an Argument: Evidence
Responses to Alternative Views
Arguments Tailored to Audiences
Ed Finn, "Harnessing Our Power as Consumers: Cost of Boycotting Sweatshop Goods Offset by the Benefits"
A Brief Introduction to Rhetorical Analysis
The Importance of Thinking and Reading Rhetorically
Identifying the Writer and the Writer's Angle of Vision
Identifying the Rhetorical Context
Examining the Use of Classical Appeals to Logos, Ethos, and Pathos
A Consideration of Style
Writing a Summary
Using Summaries in Rhetorical Analyses
Using Summaries in Arguments
How to Write a Summary
Writing a Rhetorical Analysis
The Purpose and Audience of a Rhetorical Analysis
The Structure of a Rhetorical Analysis
Analyzing the Argument
Choosing a Focus for Your Rhetorical Analysis and Writing a Thesis Statement
Drafting a Rhetorical Analysis
An Example of a Rhetorical Analysis Essay
*Student Voice: "Ha-Joon Chang's Vital Discussion of Free Trade and Developing Nations: A Rhetorical Analysis" by Lydia Wheeler
Writing an Argument
Posing a Significant, Perplexing Issue Question
*Using Reflective or Narrative Writing to Discover Your Interests and Values
*Student Voice: "Informal Writing to Discover Personal Investment in an Issue Question" by Lindsey Egan
Examining Multiple Perspectives
Analyzing Your Rhetorical Context
Constructing an Argument Core
Structuring and Drafting Your Argument
Reviewing and Revising Your Draft
An Example of a Student's Researched Argument
Student Voice: "American Privilege Dangerously Perpetuates Water Inefficiency" by Lindsey Egan
Chapter 3: Trading Goods and Jobs - Sweatshops, Corporate Responsibility, and Consumerism
Context for a Network of Issues
Stakes and Stakeholders
*Thinking Visually: Working Conditions in Global Factories
Student Voice: "Thinking Beyond My American Consumerism" by Tiffany Anderson
International Voices
*Apple's Manufacturers in China Reveal Disregard for Workers
Global Hot Spot: The United States
READINGS
Bob Jeffcott, "Sweat, Fire and Ethics"
Jeffrey D. Sachs, "Bangladesh: On the Ladder of Development"
*David Sirota, "We Are What We Trade"
Global Exchange, "Top Twelve Reasons to Oppose the World Trade Organization" (campaign flier)
*Matt Wuerker, "Made in China" (cartoon)
Student Voice: "Uncove[RED]" by Nicole Cesmat
Ha-Joon Chang, "My Six-Year-Old Son Should Get a Job: Is Free Trade Always the Answer?"
*Steven Rattner, "Let's Admit It: Globalization Has Losers"
Paul Craig Roberts, "Watching Greed Murder the Economy"
*Ralph E. Gomory, "A Time for Action: Jobs, Prosperity and National Goals"
*Daniella Markheim, "Buy American Hurts America"
*Rebecca Cook, "Buy American, Buy Union"
*Dan Schawbel, Gallup's Jim Clifton on The Coming Jobs War
*Jeff Danziger, "So If We Stop Buying" (cartoon) 125
*Allan Tanny, "Tarrifs and the Perils of Freer Trade: It's Complicated"
Chapter Questions for Reflection and Discussion
Writing Assignments
Chapter 4: Crossing Borders - Immigration
Context for a Network of Issues
Stakes and Stakeholders
*Thinking Visually: Illegal Immigration
Student Voice: "La Migra" by Esperanza Borboa
International Voices
*Factors Contributing to New Immigration Patterns in Mexico
Global Hot Spot: European Union
READINGS
Kofi Annan, "Lecture on International Flows of Humanity"
*Victor Davis Hanson, "Illegal Immigration Is Immoral" (cartoon)
*Steve Breen, "Help Wanted–Stop Illegal Immigration"
*Laura Carlsen, "Why Mexico's Drug War Is Unwinnable"
*Tim Johnson, "Free Trade: As U.S. Corn Flows South, Mexicans Stop Farming"
Mexico's Ministry of Foreign Relations, From Guide for the Mexican Migrant
Samuel P. Huntington, "The Special Case of Mexican Immigration"
Mexican American Legal Defense and Educational Fund (MALDEF) and League of United Latin American Citizens (LULAC), "MALDEF and LULAC Rebuke Samuel Huntington's Theories on Latino Immigrants and Call on America to Reaffirm Its Commitment to Equal Opportunity and Democracy"
*David L. Altheide, "The Arizona Syndrome: Propaganda and the Politics of Fear"
*Brandon Dill, Associated Press, "Tennessee Daily Life"
*Student Voice: "Arizona's HB 2281's Attack on Education and Equality: Let's End the Ban on Ethnic Studies" by Carlos Sibaja Garcia
*Dowell Myers, "The Next Immigration Challenge"
*Sheema Khan, "Let's Fashion a Made-in-Canada Approach to the Burka"
*Jonathan Laurence, "How to Integrate Europe's Muslims"
Chapter Questions for Reflection and Discussion
Writing Assignments
Chapter 5: Protecting the Environment - Water Issues and Competing Energy Technologies
Context for a Network of Issues
Stakes and Stakeholders
*Thinking Visually: Water Use
Student Voice: "Changing Lives with Water" by Malia Burns-Rozycki
International Voices
Comments from Water Authorities in Swaziland
Global Hot Spot: Africa
READINGS
Maude Barlow, "Address to the UN General Assembly on Need to Conserve Water"
*Anita Hamilton, "Droughtbusters"
Sandra Postel, "Water for Life"
United Nations Environment Programme, "Health and Environment" (poster)
*Bill McKibben, "The Most Important News Story of the Day/Millennium"
*Dave Coles, "Stop the Keystone XL"
*Richard Korman, "Building the Keystone XL Pipeline: A Necessary Evil"
*Sarah Bean, "Reflections on Tar Sands Action: The Collective Will to Address Climate Change"
*David Brooks, "Shale Gas Revolution"
*Scientific American, "Safety First, Fracking Second"
*Rod Adams, "Nuclear Power after Fukushima"
*America, "After Fukushima"
Adrian Raeside, "Wind Versus Tidal Energy" (cartoon)
Student Voice: "A Letter to Ken Salazar" by Tine Sommer
Jonathan Facelli, "Pedaling Our Way to Energy Independence"
Chapter Questions for Reflection and Discussion
Writing Assignments
Chapter 6: Merging and Clashing Cultures - Graffiti, Comics, and Music
Context for a Network of Issues
Stakes and Stakeholders
*Thinking Visually: Street Art as Activism and Advertising
*Student Voice: "A Fascination with Anime," by Owen Johnson
International Voices
*Iraquis Comment on Their Adoption of American Cultural Forms
*Global Hot Spot: Nigeria
READINGS
*Mugambi Kiai, "Is Graffiti Art or Vandalism?"
*Shepard Fairey, "Photo of Street Art"
*Michael Pernar, "Graffiti Taggers Are Just a Pain in the Arts"
*Michael Caster, "Public Art, Political Space: The Rearticulation of Power in Post-Revolutionary Tunisia"
*Michael Caster, "Photo of Street Art in Beijing, China"
*Michael Caster, "Photo of Street Art in Managua, Nicaragua"
David Adesnik, "Marvel Comics and Manifest Destiny"
Jeevan J. Kang, Image from Spider-Man: India
*Brian Truitt, "The 99 Aspires to Teach Muslim Principles"
*Naif Al-Mutawa, "Poster of The 99"
*Andrea Peyser, "Trading Cape for the Burqa"
*Suzy Hansen, "Super Muslims"
*Kris Saknussemm, "The Secret Virus of Hip-Hop"
*Hishaam Aidi, "Leveraging Hip-Hop in US Foreign Policy"
*Sujatha Fernandes, "The Mixtape of the Revolution"
Chapter Questions for Reflection and Discussion
Writing Assignments
*Chapter 7: Global Netizens - Social Media's Role in Social and Political Change
Context for a Network of Issues
Stakes and Stakeholders
*Thinking Visually: The Global Digital Divide
*Student Voice: "The Ripples of a Tunisian Twitter Experience" by John Wood
International Voices
*Translators at Global Voices Make Social Media Messages Widely Available
*Global Hot Spot: Russia
READINGS
George Packer, "When Here Sees There"
*Brett Davidson, "Are Mobil Phones Bridging the Digital Divide or Deepening It?"
*Jillian C. York, "The Revolutionary Force of Facebook and Twitter"
*Malcolm Gladwell, "Small Change"
*Nathan Jurgenson, "Digital Dualism Versus Augmented Reality"
*Tabitha Smith, "Unlocking the Awesome Potential of Behavioral Disorder"
*Nozomi Hayase, "The Rise of the Occupy Insurgency, The World's First Internet Revolution #OWS"
*Harini Calamur, "Twitter Does Not Cause Revolutions, People Do"
*Kyle Chayka, "Agitprop 2.0 on Occupy Wall Street's Social Media Revolution"
*Evgeny Morozov, "Dictatorship.com"
*Walt Handelsman, "Stop, or I'll Tweet" (cartoon)
*Kenneth Roth, "New Laws Needed to Protect Social Media"
*Malcolm Gladwell and Clay Shirky, "An Absence of Evidence" (conversational exchange)
Chapter Questions for Reflection and Discussion
Writing Assignments
Chapter 8: Defending Human Rights — Human Trafficking, Forced Child Labor, and Rape as a Weapon of War
Context for a Network of Issues
Stakes and Stakeholders
*Thinking Visually: The Trafficking of Girls
Student Voice: "A Human Connection" by Victoria Herradura
International Voices
*Comments from Women Working for Peace and Equality
*Global Hot Spot: Democratic Republic of Congo
READINGS
David A. Feingold, "Human Trafficking"
*Siddharth Kara, "Supply and Demand: Human Trafficking in the Global Economy"
National Human Trafficking Resource Center, "Look Beneath the Surface"
Joanna Busza, Sarah Castle, and Aisse Diarra, "Trafficking and Health"
*Amanda Kloer, "Sex Trafficking and HIV/AIDS: A Deadly Junction for Women and Girls"
*Shared Hope International, "This Man Wants to Rent Your Daughter"
*Representative Frank R. Wolf, "Sex Trafficking Needs to Be Stopped"
*Jo Becker, "Child Soldiers: A Worldwide Scourge"
Luc Novovitch, "Chadian Eight-Year-Old Soldier Smoking"
*Emily Rauhala, "Rape as a Weapon of War: Men Suffer, Too"
*Eve Ensler, "Ten Radical Acts for Congo in the New Year"
Chapter Questions for Reflection and Discussion
Writing Assignments
*Chapter 9: Fighting Global Disease — Pandemics, Antibiotic Resistance, AIDS, and Maternal Health
Context for a Network of Issues
Stakes and Stakeholders
*Thinking Visually: The Threat of Pandemics
*Student Voice: "Experiencing the SARS Pandemic " by Mark Merin
International Voices
*Liberian President Promotes Sanitation To Reduce Widespread Disease
*Global Hot Spot: Sub-Saharan Africa
READINGS
*Larry Brillant, "The Age of Pandemics"
*David Satcher, "The Impact of Disparities in Health on Pandemic Preparedness"
*Ali S. Khan, "Ten Years Later, What's Changed?"
*Anuj Sharma, "Antimicrobial Resistance: No Action Today, No Cure Tomorrow"
*Scientific American, "Healthy Growth for U.S. Farms"
*Megan McArdle, "Resistance Is Futile"
*Kingsley Chiedu Moghalu, "Africa's Condom Conundrum: Fighting HIV in Africa"
*AIDS Prevention Images from Africa
*Wafaa M. El-Sadr, Kenneth H. Mayer, and Sally L. Hodder, "AIDS in America–Forgotten but Not Gone"
*Regan Hofmann, "Viral Vows"
*Melinda Gates, "Family Health Makes Moral and Economic Sense"
Chapter Questions for Reflection and Discussion
Writing Assignments
Glossary of Globalization and Argument Terms
Answers to Chapter 1, "Global Pursuit"
Credits
Index