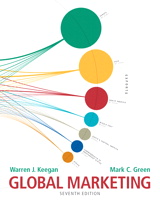 Description
For undergraduate and graduate global marketing courses.
The excitement, challenges, and controversies of global marketing.
Global Marketing strives to reflect current issues and events while offering conceptual and analytical tools that will help readers apply the 4Ps to global marketing.
Table of Contents
Part 1: Introduction
Chapter 1: Introduction to Global Marketing
Part 2: The Global Marketing Environment
Chapter 2: The Global Economic Environment
Chapter 3: The Global Trade Environment
Chapter 4: Social and Cultural Environments
Chapter 5: The Political, Legal, and Regulatory Environments
Part 3: Approaching Global Markets
Chapter 6: Global Information Systems and Market Research
Chapter 7: Segmentation, Targeting, and Positioning
Chapter 8: Importing, Exporting, and Sourcing
Chapter 9: Global Market Entry Strategies: Licensing, Investment, and Strategic Alliances
Part 4: The Global Marketing Mix
Chapter 10: Brand and Product Decisions in Global Marketing
Chapter 11: Pricing Decisions
Chapter 12: Global Marketing Channels and Physical Distribution
Chapter 13: Global Marketing Communications Decisions I: Advertising and Public Relations
Chapter 14: Global Marketing Communications Decisions II: Sales Promotion, Personal Selling, and Special Forms of Marketing Communication
Chapter 15: Global Marketing and the Digital Revolution
Part 5: Strategy and Leadership in the Twenty-First Century
Chapter 16: Strategic Elements of Competitive Advantage
Chapter 17: Leadership, Organization, and Corporate Social Responsibility
Purchase Info ?
With CourseSmart eTextbooks and eResources, you save up to 60% off the price of new print textbooks, and can switch between studying online or offline to suit your needs.
Once you have purchased your eTextbooks and added them to your CourseSmart bookshelf, you can access them anytime, anywhere.
Buy Access
Global Marketing, CourseSmart eTextbook, 7th Edition
Format: Safari Book
$109.99 | ISBN-13: 978-0-13-268157-5