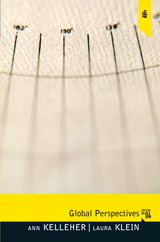 Description
For global studies courses across the curriculum, Ann Kelleher and Laura Klein's Global Perspectives provides a broad analytical framework for understanding cultural, economic, environmental, and political issues. This brief multidisciplinary primer introduces the basic concepts needed to study global issues as well as the differing perspectives that scholars, policymakers, and individuals bring to these issues. Global Perspectives helps students make sense of short and long-term problems facing the world in the twenty-first century, historical and current events that led to and fuel these problems, and the consequences of their choices in an era of globalization.
"This book provides a wonderful introduction to global issues; the authors consider not just political conditions and nation-states, but also history, culture, economics, and environment to best help students bridge the gap between concepts and the real-world complexities of our time."–Ricardo Salas, Fullerton College
Table of Contents
Chapter 1. Introduction to the Modern World
Chapter 2. Ethnicity and Global Diversity
Chapter 3. Perspectives on Ethnicity and Global Diversity
Chapter 4. Economic Development
Chapter 5. Perspectives on Economic Development
Chapter 6. Global Health
Chapter 7. Perspectives on Global Health
Chapter 8. Peace and War
Chapter 9. Perspectives on Peace and War
Purchase Info ?
With CourseSmart eTextbooks and eResources, you save up to 60% off the price of new print textbooks, and can switch between studying online or offline to suit your needs.
Once you have purchased your eTextbooks and added them to your CourseSmart bookshelf, you can access them anytime, anywhere.
Buy Access
Global Perspectives, CourseSmart eTextbook, 4th Edition
Format: Safari Book
$39.99 | ISBN-13: 978-0-205-77906-2