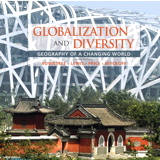 Description
This edition features the exact same content as the traditional text in a convenient, three-hole- punched, loose-leaf version. Books à la Carte also offer a great value—this format costs 35% less than a new textbook.

This exciting, contemporary approach to World Regional Geography acknowledges the geographic changes that accompany today's rapid rate of globalization. The authors' unique approach gives you access to the latest ideas, concepts and theories in geography while also developing a strong foundation in the fundamentals of world regions, including a strong sense of place and an understanding of the connections within and between world regions. Globalization and Diversity is a briefer version of the popular Diversity Amid Globalization by the same authors.
Table of Contents
1. Globalization and Diversity

2. The Changing Global Environment

3. North America

4. Latin America

5. The Caribbean

6. Sub-Saharan Africa

7. Southwest Asia and North Africa

8. Europe

9. The Russian Domain

10. Central Asia

11. East Asia

12. South Asia

13. Southeast Asia

14. Australia and Oceania


This title is also sold in the various packages listed below. Before purchasing one of these packages, speak with your professor about which one will help you be successful in your course.
Package ISBN-13: 9780321740281
Includes this title packaged with:
Building Geographic Literacy: An Interactive Approach, 6th Edition
Charles A. Stansfield
Goode's World Atlas, 22nd Edition
Rand McNally
Dire Predictions: Understanding Global Warming
Michael Mann, Lee R. Kump
$98.60 | Add to Cart
Purchase Info
ISBN-10: 0-321-69804-5
ISBN-13: 978-0-321-69804-9
Format: Alternate Binding