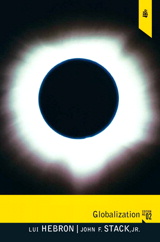 Description
Globalization demystifies the rhetoric surrounding one of the most hotly debated topics among scholars, commentators, and policymakers. Presenting arguments for and against globalization, this brief text examines a wide range of views on the economic, political, cultural, and environmental dimensions of globalization and exposes their underlying frameworks, methodologies, and expectations. Throughout, Globalization compares rhetoric and reality and argues that there is no one way to understand this complex phenomenon.
"Easy to read and devoid of technical jargon, this solid primer is a must read for those who want a quick but comprehensive grasp of a complex and often nebulous subject."—Michael Burayidi, University of Wisconsin-Osh Kosh
"Globalization moves the discussion of globalization beyond polemics to carve out an informed middle-ground position."–Sheila Croucher, Miami University
"With an intimate knowledge of the scholarly literature, an acute awareness of the public significance of the issues, and an engaging style, Hebron and Stack take us through a shifting landscape..."–James Piscatori, The Australian National University
"Globalization is required reading for anyone, either in academe or the general public, who wants to obtain greater understanding of the consequences of globalization."—Patrick James, University of Southern California
Table of Contents
Chapter 1. The Struggle to Understand Globalization in the Twenty-first Century
Chapter 2. Untangling Globalization
Chapter 3. Economic Globalization: Market Integration
Chapter 4. Economic Globalization: Growth, Development, Promise, and Anxiety
Chapter 5. The Political Challenges of Globalization
Chapter 6. Political Globalization: Sovereignty Under Siege?
Chapter 7. Cultural Globalization: Homogenization, Harmony, Resistance, and Discord
Chapter 8. Globalization and the Environment
Chapter 9. Globalization for All?
Purchase Info ?
With CourseSmart eTextbooks and eResources, you save up to 60% off the price of new print textbooks, and can switch between studying online or offline to suit your needs.
Once you have purchased your eTextbooks and added them to your CourseSmart bookshelf, you can access them anytime, anywhere.
Buy Access
Globalization, CourseSmart eTextbook, 2nd Edition
Format: Safari Book
$22.99 | ISBN-13: 978-0-205-77975-8