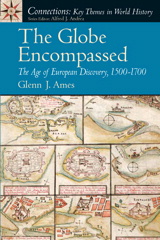 Description
Part of the Connections: Key Themes in World History series, The Globe Encompassed combines the most recent secondary work in the field with the author's own personal archival work to present a updated synthesis of the topic.
The Globe Encompassed lays out in clear narrative form a series of connected stories that simultaneously instruct and fascinate the reader. Beyond that, the author-guide provides carefully chosen excerpts from primary sources that enable the reader to enter the mindsets of such notable personalities (and driving forces in Europe's profound impact on the early modern world) as Vasco da Gama, Hernan Cortés, and Samuel de Champlain, and to see first-hand such widely separated and profoundly different colonial enterprises as Dutch-held Batavia (Jakarta) and Puritan New England. In so doing, Ames allows the reader to encompass the globe as it existed between 1500 and 1700.
Table of Contents
FOREWORD
SERIES EDITOR PREFACE
ABOUT THE AUTHOR
ACKNOWLEDGMENTS
INTRODUCTION
Motivation: "Christians, Spices and More?"
The Means: "Maps, Money, and Ships"
Was the World Flat or Round?
Caravels, Naus, and Carracks
The Iberian Century, ca. 1490 to 1600
The First Century of Global Conflict, 1600-1700
1 THE PORTUGUESE EMPIRE IN ASIA AND BRAZIL, ca. 1500-1700
Portugal and Prince Henry the Navigator
Rounding the Cape of Good Hope: The Reign of D. João II
The First Voyage of Vasco da Gama (1497-1499)
Building a Spice Empire in Asia, ca. 1500-1520
First Page of Caminha's Letter
The Estado da India, 1520-1600
Building a Land Empire in Brazil, 1500-1600
Decline and Rebirth in Asia and Brazil, 1600-1700
Seventeenth Century Brazil: The Dutch Challenge and Beyond
Sources
2 THE SPANISH EMPIRE IN THE NEW WORLD, CA. 1480-1700
The Enterprise of the Indies
Columbus's Fleet of 1492
Columbus's Later Expeditions and Death
Early Attempts at Empire, 1493-1520
The Voyage of Magellan
Cortes and the Conquest of Mexico
Pizarro and the Incas
The Age of the Conquistadores
Administering the New World
The Philippines, 1521-1700
The Economic Structures of Spanish America
Social and Cultural Life in Colonial Spanish America
Religion and the Missionary Orders
Survival of Empire in the 17th Century
Sources
3 THE DUTCH EMPIRE IN ASIA AND THE ATLANTIC WORLD, CA. 1600-1700
The Voyage of Houtman, 1595-1597
Competing Dutch Companies, 1597-1602
The Foundation of the United Dutch East India Company, 1602
The Dutch Strategy
Empire Building in Indonesia, ca. 1609-1629
The Spice Islands
Consolidation and Expansion under Van Diemen
Warfare with the Portuguese on Ceylon 1638-1658
Malacca and Japan
The Dutch West India Company (WIC) 16221-1700
The Maetsuycker Years in Asia, 1653-1678
Mounting Problems for the VOC, 1660-1700
Sources
4 THE ENGLISH AND FRENCH EMPIRES IN THE NEW WORLD AND ASIA, CA. 1600-1700
Privateers and the Periphery of World Empire
The English Empire in the New World and Asia, 1500-1700
The Northwest Passage
Privateering and Permanent Colonies
Virginia and Massachusetts
Carribean, South America, and the 'Triangular Trade'
The English East India Company
Rivalry with the Dutch in Indonesia, ca. 1600-1623
The Shift to Persia and India, ca. 1620-1700
The French Challenge ca. 1500-1600
The Voyages of Jacques Cartier, 1534-1544
The French Empire in Canada and the Caribbean, 1600-1700
The French Empire in the Indian Ocean Basin, 1500-1700
Sources
EPILOGUE: MAKING CONNECTIONS
BIBLIOGRAPHY
INDEX
Additional Course Materials