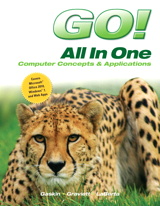 Description
Teach the course YOU want in LESS TIME!

The primary goal of the GO! Series, aside from teaching computer applications, is ease of implementation, with an approach that is based on clearly-defined projects for students and a one of a kind supplements package. GO! All in One: Computer Concepts and Applications contains coverage of Microsoft Office 2010, Windows 7, and Web Apps.
Table of Contents
Unit 1 Computer History, Windows 7, Internet, and Social Media
Chapter 1 Concepts: Computer History, Fundamentals, and Operating Systems
Chapter 2 Applications: Use Windows 7 to Manage Files and Programs and to Browse the Internet
Chapter 3 Applications: Communicating and Networking with Outlook, Skype, LinkedIn, and Squarespace
Unit 1 Case Project
Unit 2 Computers, Privacy, Office Common Features, and Word
Chapter 4 Concepts: Computer Hardware, Privacy, and Security
Chapter 5 Applications: Windows Explorer File Management, Office Features, and Word Documents
Chapter 6 Applications: Resumes, Cover Letters, Research Papers, Newsletters, and
Merged Address Labels with Word
Unit 2 Case Project
Unit 3 Computer Hardware and Microsoft Excel
Chapter 7 Concepts: System Components, Input/Output Devices, and Storage Devices
Chapter 8 Applications: Excel Worksheets, Charts, Formulas, Functions, and Tables
Chapter 9 Applications: Excel Pie Charts, Line Charts, and What-If Analysis Tools
Unit 3 Case Project
Unit 4 Application and Productivity Software, Including Microsoft
PowerPoint
Chapter 10 Concepts: Using Application Software as Productivity Tools
Chapter 11 Applications: PowerPoint Presentation Creation; Enhancing Presentations
with Pictures, Transitions, Objects, Backgrounds, and SmartArt
Unit 4 Case Project
Unit 5 The Internet, Web Apps, and Microsoft Access
Chapter 12 Concepts: The Internet and World Wide Web
Chapter 13 Applications: Create, Query, and Sort an Access Database; Create Forms and Reports
Chapter 14 Applications: Explore Cloud Computing Using Windows Live and Microsoft
Office Web Apps
Unit 5 Case Project
Unit 6 Networks, Communication, and Cloud Computing Applications
Chapter 15 Concepts: Computer Networks and Communication
Chapter 16 Applications: Cloud Computing with Google Docs and Microsoft OneNote
Unit 6 Case Project
Purchase Info ?
With CourseSmart eTextbooks and eResources, you save up to 60% off the price of new print textbooks, and can switch between studying online or offline to suit your needs.
Once you have purchased your eTextbooks and added them to your CourseSmart bookshelf, you can access them anytime, anywhere.
Buy Access
Go! All in One: Computer Concepts and Applications, CourseSmart eTextbook
Format: Safari Book
$67.99 | ISBN-13: 978-0-13-284428-4