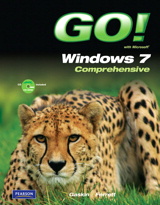 Description
For Introductory Computer courses in Microsoft Windows 7, or courses in Microsoft Office 2007 or courses in Computer Concepts including coverage of Windows 7.
Teach the course YOU want in LESS TIME! The primary goal of the GO! Series, aside from teaching computer applications, is ease of implementation, with an approach that is based on clearly-defined projects for students and a one of a kind supplements package.
Table of Contents
GO! with Windows 7 Comprehensive
Chapter 1: Getting Started with Windows 7
Chapter 2: Managing Libraries, Folders, Files, and Using Search
Chapter 3: Advanced File Management and Advanced Searching
Chapter 4: Personalizing Your Windows 7 Environment and Using Windows Media Player
Chapter 5: Exploring the World Wide Web with Internet Explorer 8
Chapter 6: Using Windows Live Essentials and Windows Media Center
Chapter 7: Backing Up Your Computer and Setting Up a Home Network
Chapter 8: Maintaining Your Computer and Optimizing Its Performance
Chapter 9: Monitoring and Tracking System Performance
Chapter 10: Controlling Computer Security and Troubleshooting Your Computer
Purchase Info ?
With CourseSmart eTextbooks and eResources, you save up to 60% off the price of new print textbooks, and can switch between studying online or offline to suit your needs.
Once you have purchased your eTextbooks and added them to your CourseSmart bookshelf, you can access them anytime, anywhere.
Buy Access
GO! with Microsoft Windows 7 Comprehensive, CourseSmart eTextbook
Format: Safari Book
$59.99 | ISBN-13: 978-0-13-237732-4