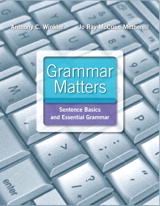 Description
Grammar Matters examines the answers to the questions "what exactly is grammar and why is it necessary to understand and use it correctly?" by demonstrating the practical realities of acceptable usage.
Table of Contents
Preface / Introduction
Part 1, Sentence Basics
Unit 1 Introduction: Grammar Matters
Unit 2 The ESL Student and the Native Speaker
Unit 3 The Sentence
Unit 4 Building Sentences
Part 2, The 20 Most Common Sentence Errors
Error 1 Sentence Fragments
Error 2 Run-on Sentences
Error 3 Lack of Subject-Agreement
Error 4 Incorrect Verb Forms
Error 5 Incorrect Forms of Do, Be, and Have
Error 6 Passive Voice
Error 7 Shift in Tense
Error 8 Shift in Point of View
Error 9 Unclear or Missing Referent
Error 10 Lack of Pronoun Agreement and Sexism
Error 11 Trouble with Using Adverbs and Adjectives in Comparisons and Superlatives
Error 12 Dangling or Misplaced Modifiers
Error 13 Omitted Commas, Part 1
Error 14 Omitted Commas, Part 2
Error 15 Apostrophe Problems
Error 16 Trouble with Quotation Marks
Error 17 Incorrect Capitalization, Part 1
Error 18 Incorrect Capitalization, Part 2
Error 19 Misspelled Words, Part 1
Error 20 Misspelled Words, Part 2
This title is also sold in the various packages listed below. Before purchasing one of these packages, speak with your professor about which one will help you be successful in your course.
Package ISBN-13: 9780321911766
Includes this title packaged with:
NEW MySkillsLab without Pearson eText -- Standalone Access Card
. . Pearson Education
$76.67 | Add to Cart
Package ISBN-13: 9780134271095
Includes this title packaged with:
MyWritingLab Generic without Pearson eText -- Glue-In Access Card
. . Pearson Education
Longman Writer, The, 9th Edition
Judith Nadell, John Langan, Deborah Coxwell-Teague
MyWritingLab Generic -- Inside Star Sticker
. . Pearson Education
$188.33 | Add to Cart
Purchase Info
Digital Choices ?
MyLab & Mastering with Pearson eText is a complete digital substitute for a print value pack at a lower price.
MyLab & Mastering ?
MyLab & Mastering products deliver customizable content and highly personalized study paths, responsive learning tools, and real-time evaluation and diagnostics. MyLab & Mastering products help move students toward the moment that matters most—the moment of true understanding and learning.