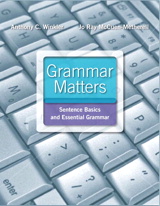 Description
Grammar Matters examines the answers to the questions "what exactly is grammar and why is it necessary to understand and use it correctly?" by demonstrating the practical realities of acceptable usage.
The authors underscore how grammar varies with custom and usage to show how its invention was as something that developed out of necessity. Put a different way: Writing considered grammatical is always appropriate in its language; writing that is not appropriate to the occasion or the audience is likely to be regarded as ungrammatical.
Presented in down-to-earth no-nonsense language, Grammar Matters begins with the basic sentence–as seen from the viewpoint of native speakers and English Language Learners students alike–then moves briskly into the twenty most common sentence errors and how to fix them. Every topic is followed by drills, practices, and MyWritingLab mastery skill sets that promise complete understanding and overall mastery.
Table of Contents
Preface / Introduction
Part 1, Sentence Basics
Unit 1 Introduction: Grammar Matters
Unit 2 The ESL Student and the Native Speaker
Unit 3 The Sentence
Unit 4 Building Sentences
Part 2, The 20 Most Common Sentence Errors
Error 1 Sentence Fragments
Error 2 Run-on Sentences
Error 3 Lack of Subject-Agreement
Error 4 Incorrect Verb Forms
Error 5 Incorrect Forms of Do, Be, and Have
Error 6 Passive Voice
Error 7 Shift in Tense
Error 8 Shift in Point of View
Error 9 Unclear or Missing Referent
Error 10 Lack of Pronoun Agreement and Sexism
Error 11 Trouble with Using Adverbs and Adjectives in Comparisons and Superlatives
Error 12 Dangling or Misplaced Modifiers
Error 13 Omitted Commas, Part 1
Error 14 Omitted Commas, Part 2
Error 15 Apostrophe Problems
Error 16 Trouble with Quotation Marks
Error 17 Incorrect Capitalization, Part 1
Error 18 Incorrect Capitalization, Part 2
Error 19 Misspelled Words, Part 1
Error 20 Misspelled Words, Part 2
Purchase Info ?
With CourseSmart eTextbooks and eResources, you save up to 60% off the price of new print textbooks, and can switch between studying online or offline to suit your needs.
Once you have purchased your eTextbooks and added them to your CourseSmart bookshelf, you can access them anytime, anywhere.
Buy Access
Grammar Matters, CourseSmart eTextbook
Format: Safari Book
$18.99 | ISBN-13: 978-0-205-09546-9