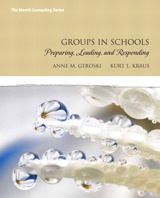 Description
Finally, a textbook that actually teaches students how to effectively lead counseling and classroom groups in schools!
This practical, user-friendly book contains the most relevant information critical to working with students in both classroom psychoeducational and counseling group work in schools. Building upon students' and practitioners' generalist preparation to lead groups, Group Work in Schools: Preparing, Leading, Responding offers readers numerous windows through which they can view the wide range of applicable rationales for group work, the preparation and skill sets required for confidence and success in conducting groups in schools, and the 'nuts and bolts' of group structure and form–enough to build their own groups.
Table of Contents
Introduction
Group Planning and Organization
Goals
"Lesson Plans"
Physical Space
Group Activities
Activity Selection
Timing of Activities
Processing Questions
Planning for Evaluation
Questions
Outcome Study Design and Data Sources
Conclusions and Changes
Managing the Group: Establishing a Productive Learning Environment
Leader Positioning
Group Climate
Cohesiveness
Interpersonal Learning
Caring
Safety, Challenge, Risk and Anxiety
Leader Executive Function
Preparing Students for Learning
Rule and Norm-setting
Attention
Minimize Distractions
Clear Instructions
Withitness
Learning Map
Meaning-making
Spiral Learning
Mental Models
Personal Life Context
Managing Content and Process Focus
Intentionality
Using and Processing Activities
Flexibility
Interest
Processing
Assessing Learning Objectives
Responding to Problems in the Group
General Guidelines
Ignoring
Cueing, re-focusing, and Proximity Control
Dealing with Objects and Other Distractions
Humor
Hurdle Help
Feedback Exchange and Group Problem Solving
Restating the Rule
Working with Choices
Using Consequences
Natural Consequences
Logical Consequences
Reasonable Consequences
General Guidelines for Working with Consequences
Contracts
Drafting the Contract
Working with the Contract in the Group
Unhooking from Power Struggles
Using Time-Out
De-escalation
Purchase Info ?
With CourseSmart eTextbooks and eResources, you save up to 60% off the price of new print textbooks, and can switch between studying online or offline to suit your needs.
Once you have purchased your eTextbooks and added them to your CourseSmart bookshelf, you can access them anytime, anywhere.
Buy Access
Groups in Schools: Preparing, Leading, and Responding, CourseSmart eTextbook
Format: Safari Book
$20.99 | ISBN-13: 978-0-13-502341-9