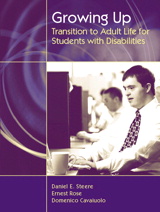 Description
Through case studies and clearly presented content, this book helps readers learn what they can do to assist students with disabilities in achieving positive adult outcomes.
Professionals, students of special education and families of students with disabilities will all benefit from this comprehensive introduction to transition services.
This book provides a comprehensive and clear introduction to effective transition services for students with disabilities who are leaving the special education system. The Prologue and Chapter 1 provide an overview of the topic of transition services, and the remaining chapters go into detail about specific aspects of the transition planning process. The central roles of students with disabilities and their families are emphasized. Case studies of two individuals, one with mild disabilities and one with severe disabilities, are followed throughout the text to illustrate effective practices, ensuring readers are able to apply the content to students with different types and severity of disabilities, and are able to understand how practices can be tailored to meet individual student needs. The content is presented so that readers can apply key strategies immediately in their work as teachers or in other professional capacities. Research Summaries in each chapter address the research basis for effective practices that are discussed throughout the book. Spotlight on History in most chapters provides a short biography on an individual who made a significant contribution to the development of transition services. Additional resources and websites are included at the end of each chapter.
Table of Contents
Each chapter begins with "Chapter Objectives" and "Key Topics to Look For in This Chapter…" and concludes with "Chapter Summary," "Application Activities For Practice and Enhanced Understanding," "For Your Portfolio," and "References."
Foreword.
Preface.
Acknowledgments.
Prologue: Overview of Transition to Adult Life for Students with Disabilities.
1. Transition to Adult Life for Students with Disabilities: Foundations, Definitions, and Legislation.
What Is the Purpose of Public Education?
Definitions of Transition
Legislative Definitions
A Definition from the Field
A Broader Perspective on Transition
Other Aspects of Transition
Shift from Entitlement to Eligibility
Domains of Adult Living
Visions of Success
Sue Anne
Mike
2. Student Perspectives and Involvement in Transition.
Concerns and Interests of Typical Adolescents
Research on Students' Involvement in Transition Planning
Self-Determination: Taking Charge of Your Own Life
Sue Anne and Mike
Involving Students in Transition Planning
Before Planning Meetings
After the Planning Meeting
Creative Approaches to Involving Students and Their Families
Person Centered Planning
Mike's Person Centered Plan
3. Families' Perspectives and Involvement in Transition
Times of Change in the Lives of Families
The Family as a System
Research on Families in Transition
Transition and the Families of Sue Anne and Mike
Cultural Differences and Families
Challenges to Family Involvement in Transition Planning
Schedule Changes
Changes in Focus of the Program
Who to Trust?
Where Is the Celebration?
What Is Best for Our Child, and For Us?
Creative Strategies for Better Involving Families in Transition Planning
Build Trust
Heighten Awareness
Ask Guiding Questions
Provide Information
Provide Support and Reassurance
Help Identify Family Resources
Connect to Sources of Support
4. The Transition Planning Process.
Setting the Stage: James' Transition Plan
Research on Transition Planning for Students with Disabilities
The Importance of Effective Transition Planning
A Closer Focus on Transition
The Transition Planning Process
Transition Planning
Transition Preparation
The IEP Meeting for Transition Planning
IEP/Transition Planning Team
The Planning Meeting
Prepare for the Transition Planning Meeting
Make Introduction and Clarify the Purpose
Sequence the IEP and Transition Discussion
Clarify Participant Responsibilities in an Action Plan
Summarize the Meeting Results
The Transition IEP
Generic Transition Planning Practices
Clarification of a Vision of Success to Guide Transition Efforts
Close Collaboration and Support of Family and Significant Others
Dynamic Assessment Processes, Based on Relevant Questions
Reference of Curricula to Local Community Environments
Individual Sequences of Assistance to Enhance Optimal Learning
Connections to Sources of Community Support
5. Interaction Across Agencies.
Setting the Stage, Part II: A Return to James' Transition Plan
Research of Collaboration and Interaction Across Agencies
Community Linkages
Adult Service Options
Federally Funded Programs and Services
Vocational Rehabilitation (VR)
Social Security
State-funded Programs and Services
Development Disabilities/Mental Retardation and Mental Health Offices
Local Service Providers
Role and Responsibilities of Adult Service Agencies
Student Responsibility in Identifying and Selecting Service Providers
Potential Barriers to Interagency Collaboration and/or Community Linkages
Sue Anne and Mike
6. Interaction with Businesses.
Research Related to Interacting with Businesses
The Role of Business and Industry in Transition Programs
Sue Anne
Mike
Developing Community-based Training Experiences
Steps in Developing Community-based Training Experiences
Developing Jobs for Adulthood
Compatibility Matching
Job Analysis
Adapting Jobs and Designing Reasonable Accommodations
Teaching Students to Develop Their Own Jobs
Develop and Update One's Own Résumé
Develop a Network of Support
Practice Interviewing Skills
Analyze Jobs and Assess the Quality of the Match
Developing Community-based Employment Training Sites that Meet Department of Labor Guidelines
Workplace Culture and Natural Supports
Job Development
Job Training
Follow-Along
7. Transition to Postsecondary Education.
Beyond IDEA: Laws and Regulation for Adults with Disabilities
The Rehabilitation Act of 1973, Section 504
The Americans with Disabilities Act (ADA)
The Family Educational Rights and Privacy Act (FERPA)
Self-Determination as an Organizing Concept for the Transition to Postsecondary Education
Defining Self-Determination
Teaching the Skills of Self-Determination
Alberto
Planning the Transition to Postsecondary Education
Independent-Living Skills–Start Early, Teach Often
Academic Planning
Credit-based Transition Programs
Some Practical Matters Affecting Choice
Assistive Technology and Universal Design
Assistive Technology
Universal Design
8. Moving Out of the Family Home to Community Living.
Overview: When Typical Young People Move Away from Home
Developing Skills for Independence
Impact on Young People and Their Families
The Range of Options for Community Living for Young People with Disabilities
Supported Living Philosophy and Approach
The Reality of Waiting Lists
Research Related to Community Living for Individuals with Disabilities
Acquiring Skills for Community Living
Transition Planning for Community Living
Community Involvement and Participation
Sue Anne and Mike
Sue Anne
Mike
9. Models for Integrated Community Employment.
Mike Wants to Work
Research on the Development of Integrated Employment Opportunities
The Role of Education in Preparing for Employment
Supported Employment
Defining the Elements of Supported Employment
Key Components of Supported Employment
Models of Supported Employment
Assessment for Community Employment
Vocational Assessment and Planning
Initiating Career Development: How It All Comes Together
10. Curriculum for Students in Transition.
Research Related to Secondary-Level Curriculum and Transition
Post-School Outcomes: The Guiding Force in Curriculum Development
Sue Anne
Mike
Functional Adult Living Skills for All Students
Curriculum Standards and Infusion of Functional Skills
Perspectives of Business and Industry
Using the Community for Instruction
Develop Relationships with Community Businesses
Ensure Connection to the IEP
Address Multiple Skills
Schedule Regular Instruction in the Community
Promote Inclusion in the Community
11. Recreation, Leisure, and Healthy Living for Students in Transition.
Research Related to Recreation, Leisure, and Healthy Living for People with Disabilities
Recreation and Leisure for Students in Transition
Options for Community Recreation
Sue Anne
Mike
Options for Recreation in t he Home
Friends and Community Connections
Addressing Recreation and Leisure Through the Curriculum
Processing for Identifying Appropriate Recreation and Leisure Activities
Developing Patterns of Healthy Living
Dimensions of a Healthy Adult Lifestyle
Threats to Healthy Living
Addressing Healthy Living Through the Curriculum
12. International Issues and Practices in Transition Services and Employment of Individuals with Disabilities.
Employment and Rehabilitation Practices in European Countries
United Kingdom (UK)
Sweden
Germany
Employment and Rehabilitation Issues in the Developing World
Culture
Public Policy
Impairment
Employment and Rehabilitation Practices in the Developing World
Philippines
Peru
Taiwan
International Career Options for Students with Disabilities
International Exchange
International Affairs
International Development
Employment Prospects
Epilogue.
Index.