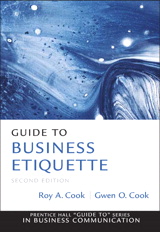 Description
For courses in Consulting, Human Resource Management, Management, Auditing, Career Exploration, Freshman Seminar, Business and Managerial Communication, all Capstone courses, as well as Seminars and Executive Education programs.
Providing an excellent foundation for business etiquette, this text is designed to be a brief, practical, user-friendly guide answering specific etiquette questions for the student or busy professional. Students will learn poise, build confidence, and appear professional.
Table of Contents
Chapter 1: Understanding the Rules of Etiquette
1. Etiquette lessons from history
2. The basis of etiquette today
Chapter 2: Creating a Powerful First Impression
1. Dressing to make a good impression
2. Introducing yourself and others
3. Shaking hands
4. Interviewing basics
Chapter 3: Maintaining Business Relationships
1. Conflict resolution
2. Personal workspace
3. Office romances
4. Business travel
5. Other potential conflict situations
Chapter 4: Communication Etiquette
1. Communication etiquette
2. Face-to-face etiquette
3. Telephone etiquette
4. Writing etiquette
5. Email etiquette
6. Web page etiquette
7. Public speaking etiquette
Chapter 5: Basic Digital Etiquette
1. Telephone etiquette
2. Email etiquette
3. Webpage etiquette
4. Etiquette for other digital options
Chapter 6: Basic Business Dining Etiquette
1. Basic dining behavior
2. Basic table settings
3. Basic table manners
4. Host etiquette
5. Guest etiquette
Chapter 7: Special Dining Events
1. Invitations
2. Formal dining
3. Business banquets
4. Casual dining
Chapter 8: Successful Meetings
1. Before the meeting
2. During and after the meeting
3. Being a productive participant
4. Distance meetings
5. Parliamentary procedure
Chapter 9: Cross-Cultural Etiquette
1. Preparing for your trip
2. Greeting people
3. Establishing relationships
4. Eating and gift giving
5. Considering gender issues


Purchase Info ?
With CourseSmart eTextbooks and eResources, you save up to 60% off the price of new print textbooks, and can switch between studying online or offline to suit your needs.
Once you have purchased your eTextbooks and added them to your CourseSmart bookshelf, you can access them anytime, anywhere.
Buy Access
Guide to Business Etiquette, CourseSmart eTextbook, 2nd Edition
Format: Safari Book
$18.99 | ISBN-13: 978-0-13-707505-8