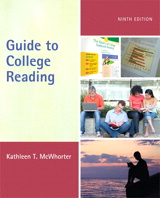 Description
Guide to College Reading is intended to equip students from different backgrounds with the skills they need to handle the diverse reading demands of college courses and guide them in becoming active learners and critical thinkers.
Designed for use in the first level reading course, Guide to College Reading focuses on the key areas of reading comprehension, vocabulary improvement, and textbook reading while addressing the learning characteristics, attitudes, and motivational levels of reading students.
Table of Contents
Part One: Success in College Reading
Chapter 1: Successful Attitudes for College Learning

Chapter 2: The Basics of College Textbook Reading
Part Two: Vocabulary: The Key to Meaning
Chapter 3: Using Context Clues

Chapter 4: Using Word Parts and Learning new Vocabulary
Part Three: Comprehension Skills and Learning Skills
Chapter 5: Reading as Thinking

Chapter 6: Understanding Paragraphs: Topics, Stated Main Ideas, and Implied Main Ideas

Chapter 7: Understanding Paragraphs: Supporting Details and Transitions

Chapter 8: Following the Author's Thought Patterns

Troubleshooting Guide: Solutions to the Top 10 Reading and Study Problems
Part Four: Textbook Reading Skills
Chapter 9: Reading Graphic and Visuals

Chapter 10: Textbook Reading: Organizing and Remembering Information
Part Five: Critical Reading Skills
Chapter 11: Interpreting the Writer's Message and Purpose

Chapter 12: Evaluating: Asking Critical Questions
Part Six: A Fiction Mini Reader
Part Seven: A Contemporary Issues Mini Reader
Purchase Info ?
With CourseSmart eTextbooks and eResources, you save up to 60% off the price of new print textbooks, and can switch between studying online or offline to suit your needs.
Once you have purchased your eTextbooks and added them to your CourseSmart bookshelf, you can access them anytime, anywhere.
Buy Access
Guide to College Reading, CourseSmart eTextbook, 9th Edition
Format: Safari Book
$43.99 | ISBN-13: 978-0-205-01350-0