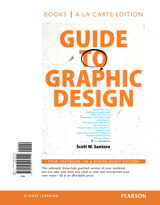 Description
Learn to Conceptualize, Create, and Communicate in Graphic Design
An exciting first edition, Guide to Graphic Design helps readers learn the mechanisms used to convey information, integrate ideas into full concepts, but most importantly, to think like a graphic designer. Scott W. Santoro focuses on the principle that design is a layered and evolving profession. The text highlights step-by-step design processes and illustrates how to build good work habits.
Creations from top design firms and design school programs are presented in each chapter engaging readers through the book. Designers have contributed short essays on their work style, their studio habits, and their inspirations. Each designer, showing a passion for design and communication, offers a new perspective and approach to possible working methods.
MyArtsLab is an integral part of the Santoro, program. Key learning applications include, Closer Look tours, 12 Designer Profile videos and Writing About Art.
BRIEF TABLE OF CONTENTS: Preface. Virtual Crit Wall, Dear Reader and Features. Chapter 1 About Graphic Design. Chapter 2 A Brief History of Graphic Design. Chapter 3 Graphic Design Concepts. Chapter 4 Researching a Graphic Design Project
Chapter 5 Generating Ideas. Chapter 6 The Elements and Principles of Form. Chapter 7 Type and Typography
Chapter 8 Proportion Systems: Grids and Alignments. Chapter 9 Concepts in Actions. Chapter 10 Visual Coding: Loading Form with Meaning. Chapter 11 Interactions and Motions Design. Chapter 12 Becoming a Designer.
A better teaching and learning experience
This program will provide a better teaching and learning experience—for you and your students. Here's how:
Personalize Learning— MyArtsLab is an online homework, tutorial, and assessment program. It helps students prepare for class and instructor gauge individual and class performance.
Improve Critical Thinking – Exercises throughout the texthelp readers to make decisions and understanding the connection between an idea and its execution.
Engage Students– Each chapter presents quick, in-class exercises and longer, more involved projects.
Support Instructors – Instructor recourses are available in one convenient location. Figures, videos and teacher support materials create a dynamic, engaging course.
This Book a la Carte Edition is an unbound, three-hole punched, loose-leaf version of the textbook and provides students the opportunity to personalized their book by incorporating their own notes and taking the portion of the book they need to class – all at a fraction of the bound book price.
Table of Contents
In this Section:
1) Brief Table of Contents
2) Full Table of Contents
---
BRIEF TABLE OF CONTENTS:
Preface. Virtual Crit Wall, Dear Reader and Features
Chapter 1. About Graphic Design
Chapter 2. A Brief History of Graphic Design
Chapter 3. Graphic Design Concepts
Chapter 4. Researching a Graphic Design Project
Chapter 5. Generating Ideas
Chapter 6. The Elements and Principles of Form
Chapter 7. Type and Typography
Chapter 8. Proportion Systems: Grids and Alignments
Chapter 9. Concepts in Actions
Chapter 10. Visual Coding: Loading Form with Meaning
Chapter 11. Interactions and Motions Design
Chapter 12. Becoming a Designer
---

FULL TABLE OF CONTENTS:
Chapter 1. About Graphic Design
Graphic Design's Heritage
Graphic Design Categories
Being a Graphic Designer
Influences in Graphic Design
The Nuts and Bolts Process of Graphic Design
Chapter 2. A Brief History of Graphic Design
Industrial Expansion
A Turn-of-the-Century Response to Industrialization
Moving towards a Modern Sensibility
The Modern World
Designing Utopia
Ideological Independents and the New Typography
Modernism in America
Advertising Design and the New York School
Conceptual Image-Makers
Postmodernism and the Digital Age
Chapter 3. Graphic Design Concepts
From Ideas to Concepts
Concepts Go Further
Metaphoric Concepts
Analytic Concepts
Meta Concepts
Applying Conceptual Approaches
Chapter 4. Researching a Graphic Design Project
Gathering Information
Defining the Problem
Techniques for Visualizing Research
The Saturation Point
Chapter 5. Generating Ideas
Making a Creative Work Environment
Actively Generating Ideas
Generating Montaged Ideas
Benefitting from Playful Accidents
Refreshing Your Vision
Chapter 6. The Elements and Principles of Form
Form and Function
Compositional Elements
Compositional Principles
Chapter 7. Type and Typography
Speaking with Type
Historical Type
Type Classifications
Typeface Anatomy
Typeface Families and Fonts
Analytic Typography
Readable Texture
Metaphoric Typography
Vernacular Inspiration
Recontextualizing Type
Type in the Third Dimension
Chapter 8. Proportion Systems: Grids and Alignments
Defining a Grid
Developing Modular Grids
Developing Modular Patterns
Typographic Grids
Freestyle Alignments
Exploiting the Grid
The Golden Ratio
Paper Formats
Paper-Fold Formats
The Rule of Thirds
Chapter 9. Concepts in Actions
Concepts Inspired by a Subject's Location
Analytic-Based Concepts
Using Research as a Conceptual Approach
Bringing a Bigger Idea to a Concept
Chapter 10. Visual Coding: Loading Form with Meaning
Visual Codes Do Send Messages
Tools for Visual Coding
Gestalt Perception
Design Using Gestalt Perception
Semiotics
Icon, Index, and Symbol
Visually Coded Identities
Logo Application
Why Create Meaning in a Design
Chapter 11. Interactions and Motions Design
Designing for a Virtual Space
Interaction and Motion Concepts
Digital Storytelling
The Design of Sound
The Expanding Realm of Graphic Design
Chapter 12. Becoming a Designer
Getting a Job in Graphic Design
Personal Website and Design Blog
Interviewing
The Business of Design
The You in Your Work
Design and Technology
Design and the Fine Arts