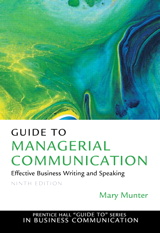 Description
For undergraduate and MBA courses in Management Communication, Writing, and Oral Presentations. Also a useful reference for Executive Seminars/Workshops.

A brief, professional, reader-friendly guide to improving managerial communication.

Guide to Managerial Communication is a clear, concise, practical text for cultivating effective written and oral communication in a managerial, business, government, or professional context.

The ninth edition has been updated based on user feedback while still maintaining the brevity, easy-to-follow organization, and professional orientation of previous editions.


Table of Contents
I. Communication Strategy
Communicator Strategy
Audience Strategy
Message Strategy
Channel Choice Strategy
Culture Strategy
Strategy Checklist
Guide to the Guide
II. Writing: Composing Efficiently
General Composing Techniques
Special Composing Techniques
III. Writing: Macro Issues
Document Design for "High Skim Value"
Signposts to Show Connection
Effective Paragraphs or Sections
IV. Writing: Micro Issues
Editing for Brevity
Choosing a Style
Writing Checklists
V. Speaking: Verbal Structure
Tell/Sell Presentations
Questions and Answers
Consult/Join Meetings
Other Speaking Situations
VI. Speaking: Visual Aids
Designing the Presentation as a Whole
Designing your Slide Master
Designing Each Individual Slide
Practicing with Visual Aids
VII. Speaking: Nonverbal Skills
Nonverbal Delivery Skills
Nonverbal Listening Skills
Speaking Checklists

Appendix A: Inclusive Language
Appendix B: Grammar and Usage
Appendix C: Punctuation


Purchase Info ?
With CourseSmart eTextbooks and eResources, you save up to 60% off the price of new print textbooks, and can switch between studying online or offline to suit your needs.
Once you have purchased your eTextbooks and added them to your CourseSmart bookshelf, you can access them anytime, anywhere.
Buy Access
Guide to Managerial Communication, CourseSmart eTextbook, 9th Edition
Format: Safari Book
$27.99 | ISBN-13: 978-0-13-214772-9