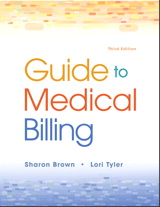 Description
For all courses in medical billing, medical coding, and/or medical insurance, in any institution or environment.
This unique textbook/workbook brings together all the theory and practical skills students need to succeed as medical billers. After introducing students to the medical practice, it presents in-depth coverage of every common medical billing procedure and practice used in both medical offices and hospitals. This edition includes extensive new coverage of transitioning to ICD-10-CM from ICD-CM in medical offices, and using the newer UB-04 form in hospitals. Coverage also includes: Current Procedural Terminology (CPT®) coding, stress and time management, CMS-1500 forms and medical procedures, hospital procedures, basic office functions and communications, and much more. To enhance understanding and retention, the text uses proven pedagogical features, including learning objectives, key terms and definitions, critical thinking questions, in-text chapter activities simulating professional practice, and additional end-of-chapter exercises.
Table of Contents
Section I. Medical Practice Administration
1. Introduction to Medical Billing
2. Legal and Ethical Issues of Medical Billing
3. Clinical Records and Medical Documentation
Section II. Health Insurance Programs
4. Health Insurance Programs
5. Medicare and Medicaid
6. Workers' Compensation
7. Managed Care
Section III. Finances and Accounting
8. Medical Practice Accounting
Section IV. Medical Coding
9. Reference books
10. International Classification of Disease (ICD-9-CM) Coding
11. Transitioning from ICD-9-CM to ICD-10-CM/PCS
12. Coding with ICD-10-CM/PCS
13. Current Procedural Terminology (CPT®) Coding
Section V. Medical Billing
14. The CMS-1500 Form and Medical Billing Procedures
15. The UB-04 Form and Hospital Billing Procedures
Appendix A. Glossary
Appendix B. Tables and Forms
Index
Purchase Info ?
With CourseSmart eTextbooks and eResources, you save up to 60% off the price of new print textbooks, and can switch between studying online or offline to suit your needs.
Once you have purchased your eTextbooks and added them to your CourseSmart bookshelf, you can access them anytime, anywhere.
Buy Access
Guide to Medical Billing, CourseSmart eTextbook, 3rd Edition
Format: Safari Book
$37.99 | ISBN-13: 978-0-13-215474-1