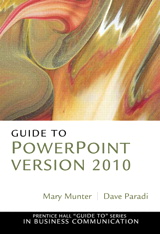 Description
For anyone who has to make presentations.

A brief, professional, reader-friendly guide to creating effective presentations.

Guide to PowerPoint, Version 2010, with its clear, concise, and practical information, helps readers achieve results with PowerPoint presentations.


Table of Contents
PART I. PRESENTATION STRATEGY
Chapter 1: From Strategy to Structure
Chapter 2: From Structure to Slides
PART II. SLIDE MASTER DESIGN
Chapter 3: Slide Master Colors
Chapter 4: Slide Master Fonts
Chapter 5: Other Design Elements
PART III. INDIVIDUAL SLIDES
Chapter 6: Charts to Show "How Much"
Chapter 7: Concept Diagrams to Show "How"
Chapter 8: Text Slides to Show "Why" or "How"
Chapter 9: Other Slide Enhancements
PART IV. PRESENTATION DELIVERY
Chapter 10: Nonverbal Delivery
Chapter 11: PowerPoint Delivery

Purchase Info ?
With CourseSmart eTextbooks and eResources, you save up to 60% off the price of new print textbooks, and can switch between studying online or offline to suit your needs.
Once you have purchased your eTextbooks and added them to your CourseSmart bookshelf, you can access them anytime, anywhere.
Buy Access
Guide to PowerPointsVersion 2010, CourseSmart eTextbook
Format: Safari Book
$14.99 | ISBN-13: 978-0-13-256966-8